Seiko modding
| Watch parts
7006-6000
Seiko Automatic 7006-6000
(s/n: 497886 and s/n: 570457)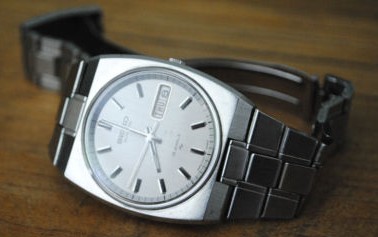 Description: 1972 Stainless 19 jewel automatic watch including day and date window.
Thought to be last of a first generation model (there were three major revisions over the nearly 30 years this movement was made). Movement has never been touched and runs as strong today as the day it was made. Simple, but effective and very reliable. Excellent as a everyday classic watch especially when they made such large numbers so they can be found for as little as $20 on eBay! Weight: 90 gram
Vintage digital
Seiko vintage digital A158-503A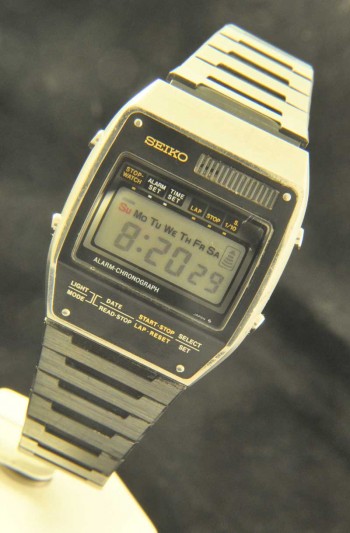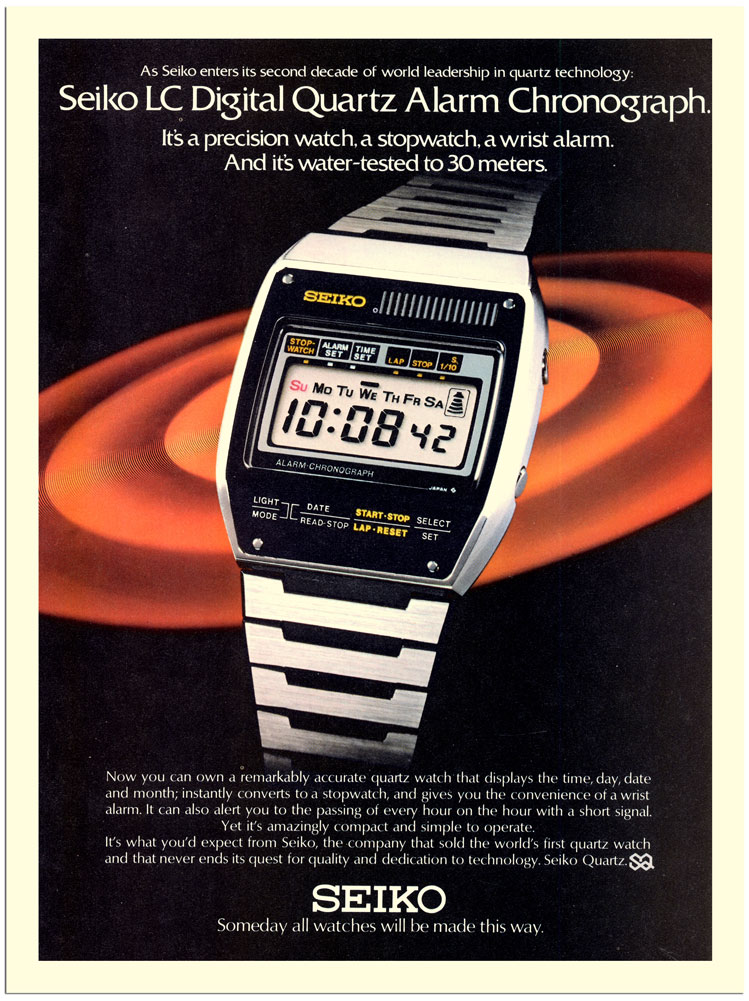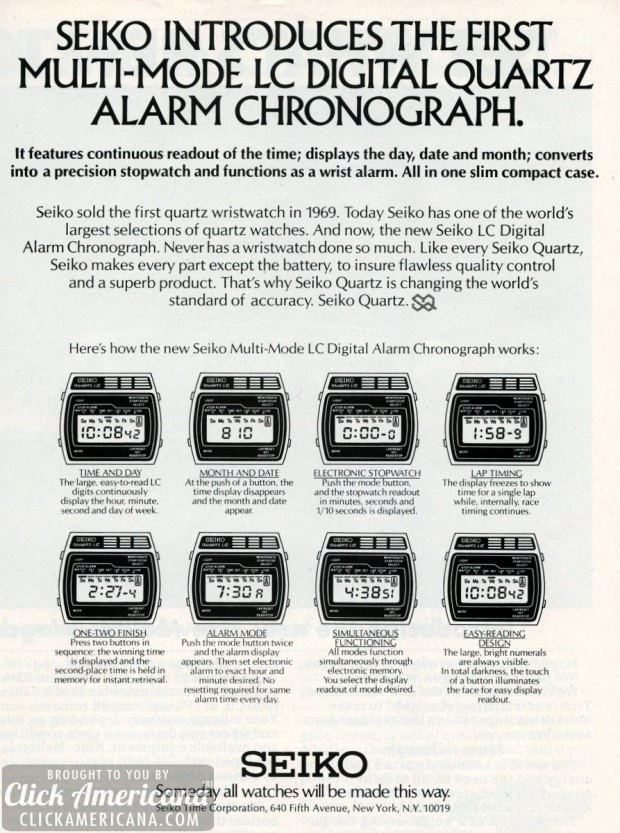 Model # A158-503A
Serial # 8D8938
Features: Alarm, Chronograph, Day & Date, Light, Stopwatch
Country/Region of Manufacture: Japan
Movement: Quartz
Age: VINTAGE, around 1978
Display: Digital
Gender: Men's
Band Material: Stainless Steel
Case Material: Stainless Steel
Style: Sport
Battery: SR1130SW
Weight: 80 gram
Solar Chronograph Diver
Seiko Solar Chronograph Diver (SSC021)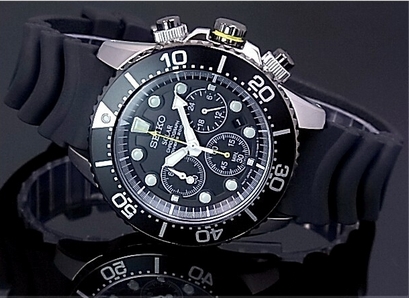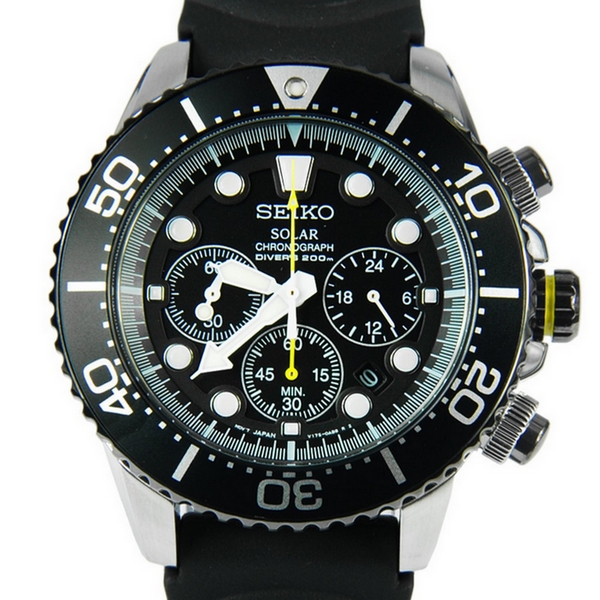 * Model: SSC021
* Model year: 2014
* Dimensions: 44mm x 51mm x 14mm
* Case: 44mm stainless steel
* Case thickness: 14 mm
* Dial: Black
* Display type: Analog
* Bezel: Unidirectional stainless steel w/ion plating
* Dial window material type: Hardlex
* Case back: Screwdown steel caseback
* Lug Width: 20mm
* Strap: Black polyurethane (now on fiber strap from Strapsco
* Clasp: Buckle
* Movement: Caliber V175 solar-powered chronograph
* At least 6 months power reserve
* Weight incl. original strap: 111 gram
* Water Resistance: 660 feet/200m; ISO-6425 certified
* Retail Price: $375 (www.creationwatches.com: $199
* s/n: 411911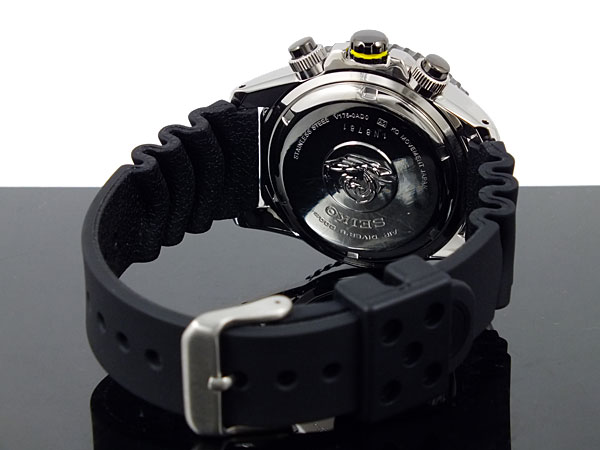 Seiko 5 SRP165J1
Seiko 5 Sports Auto Charcoal Black Dial Stainless Steel Bracelet (SRP165J1)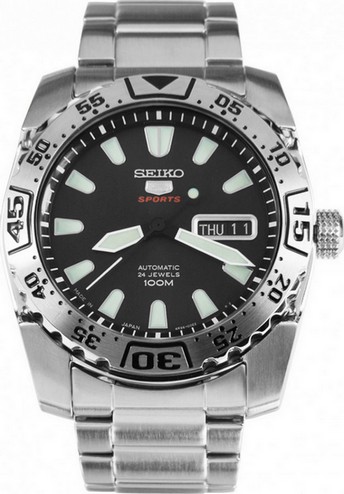 Model #: SRP165J1
Features: Day & Date, Waterproff 100 meters
Country/Region of Manufacture: Japan
Movement: 4R36A, 24 jewels
Model Year: 2013
Display: Analog, Luminous hands and hour markers
Dial Window: Mineral (Acrylic, mineral, and sapphire are the three types of crystals commonly used in watches)
Gender: Men's
Band material: Stainless steel bracelet
Band Width: 20 mm
Bezel Function: Unidirezionale, rotating
Case material: Stainless steel case
Case diameter: 41 mm
Case thickness: 12 mm
Style: Sport
* Sikkerhetslås
Weight: 160 gram
High Street Price: £245.00. Bought from Yorkshire Watches Seiko specialists.
SKX007J1
Seiko Automatic Diver's SKX007J1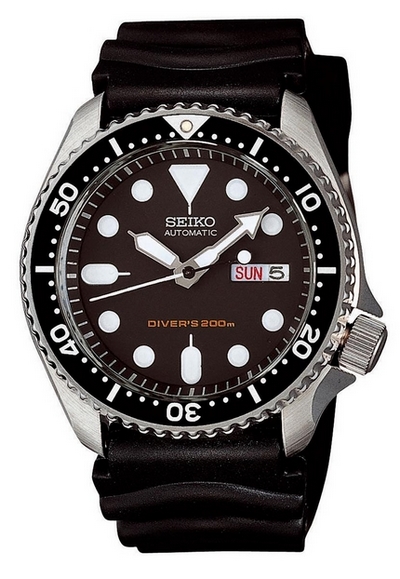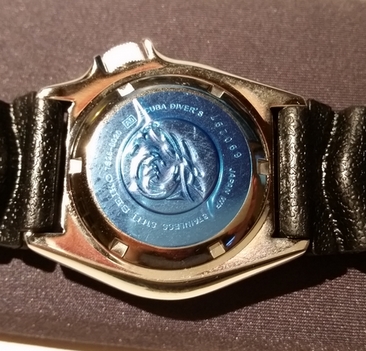 Made In Japan | Seiko Divers Automatic SKX007J1 | Divers Movement Automatic (SKX007) | Calibre 7S26 (21 Jewels) | Crystal Hardlex | Dial Black | Bezel Unidirectional | Water resistance 200m | Bracelet (lug) width 22mm | Bracelet/Strap Rubber | Case Stainless steel | BPH 21600 | Power reserve (At 1 Hz, 60 swings/min): 5min = 300 swings = 31 hrs 6min = 360 swings = 38 hrs 7min = 420 swings = 42 hrs 8min = 480 swings = 45 hrs | Case diameter 45mm w/crown (42mm w/o) | Case thickness 13mm | Weight incl. original strap 104 gram. | Ordered from CreationWatches.com 5th June 1.899,00 ($ 31) | Arrived 7th June-17 with DHL. | Retail price in Norway June 2017: NOK 3.998,00 @ optura.no

Now with Bonetto Cinturini 285/S strap bought from Chronoline.pl for 49 zloty (+ 17 zl transport) 7.7.2017 www.togo.com.pl
Seiko 5 SNKL23J1
SEIKO 5 AUTOMATIC BLACK DIAL WATCH #SNKL23J1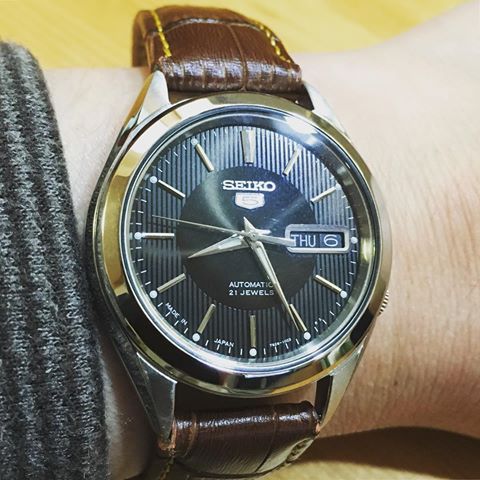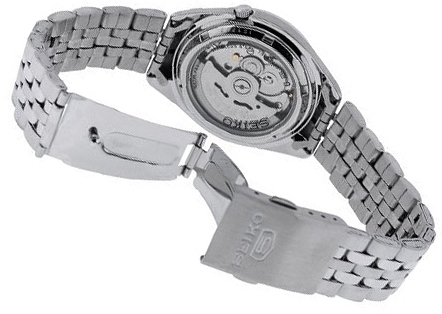 • Movement: Seiko 21-Jewel Automatic (self- and bi-directional winding - it's winding regardless of which way the rotor is turning.)
• Case: Brushed stainless steel, 38mm x 10mm thick.
• Back: Exhibition screw-in back
• Crystal: Hardened Mineral
• Band: Folded stainless steel bracelet, deployant clasp, 18mm lug
• Water Resistant: 30 meters
• Now on 3.party black crocodile strap ($2,75 incl. transport) at ebay from: Mr. Yuan, Tel +852 37088973 Flat 7E, 7/F, Young Yiu Chung (NO.8) Industrial Building, 20 Wang Hoi Road, Kowloon Bay, Kowloon, HK, HONG KONG
• Weight incl. original Seiko 5 bracelet: 99 gram
• Warranty: 2 Years
• Cost: $171 at skywatches.com.sg
Seiko 5 SNK809K2
SEIKO 5 Military Automatic Nylon #SNK809K2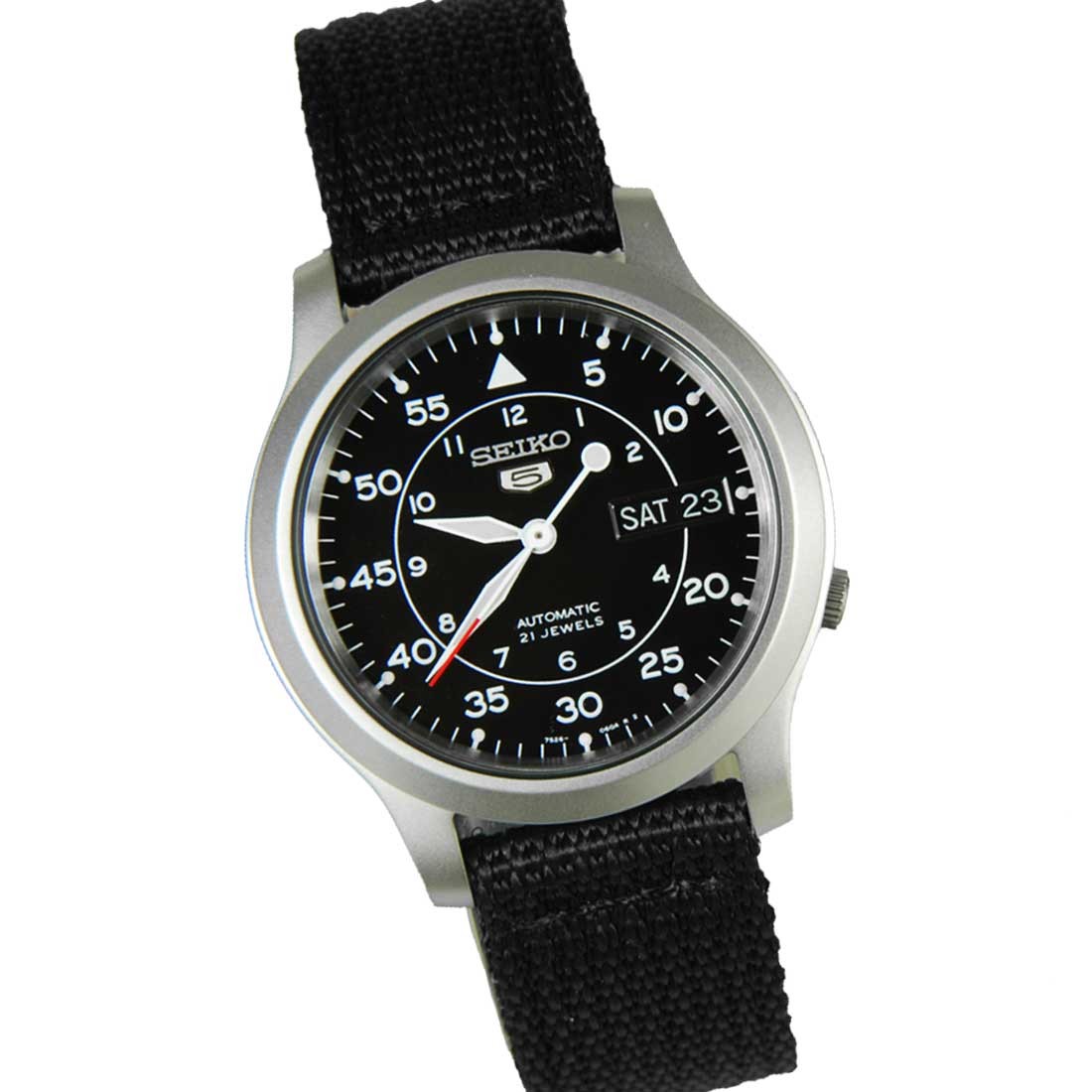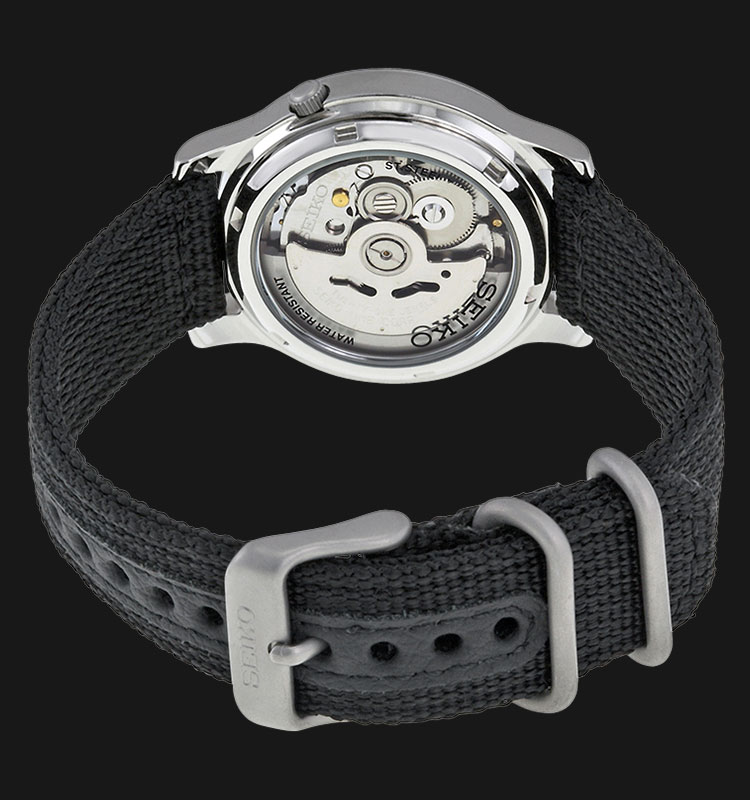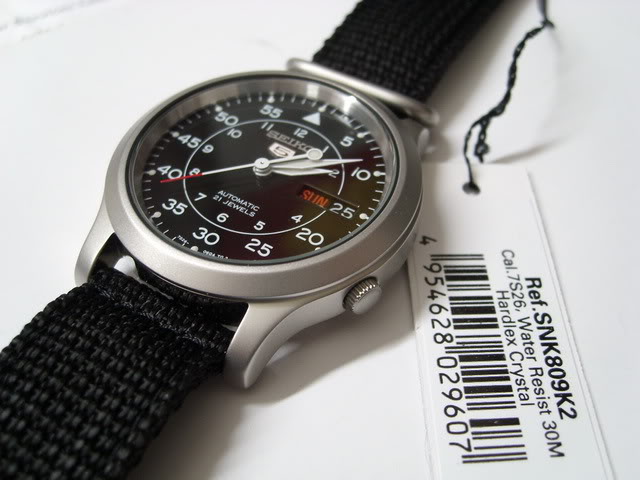 Simple, yet classy, practical and durable; in one word, it's excellent. Oversized watches often look good but not during those trying rimes in the woods. The 21-jewel, automatic movement simply works great, even for those spending 14 hours at desk jobs. If you are one and don't like battery, this is your other option. It will also give you company when you take your family to the water park. The stainless steel case resists water up to 99 feet and nowhere can you dive 30 meters down and straight in the simulated wild. -- CreationWatches.
• Movement: Seiko 21-Jewel Automatic Caliber 7S26C (self- and bi-directional winding - it's winding regardless of which way the rotor is turning.)
• Case: Brushed stainless steel, 37mm x 13mm thick.
• Back: Exhibition screw-in back
• Crystal: Hardened Mineral
• Band: Black nylon strap, 18mm lug
• Water Resistant: 30 meters
• Weight incl. original Seiko 5 nylon strap: 58,96701 gram
• Cost: $69 at creationwatches.com May 2018
Seiko 5 SNXF05
SEIKO 5 Dress watch #SNXF05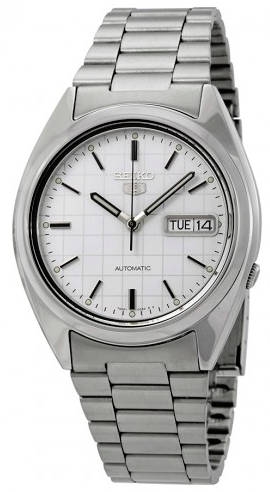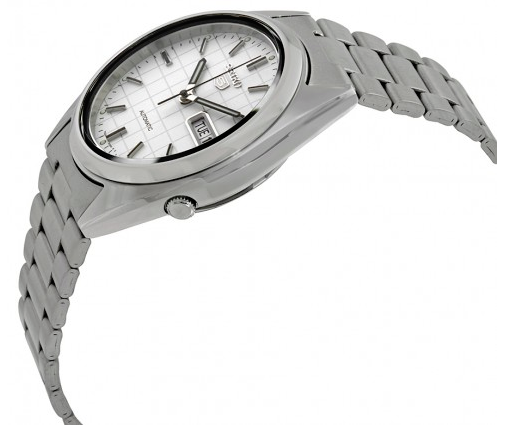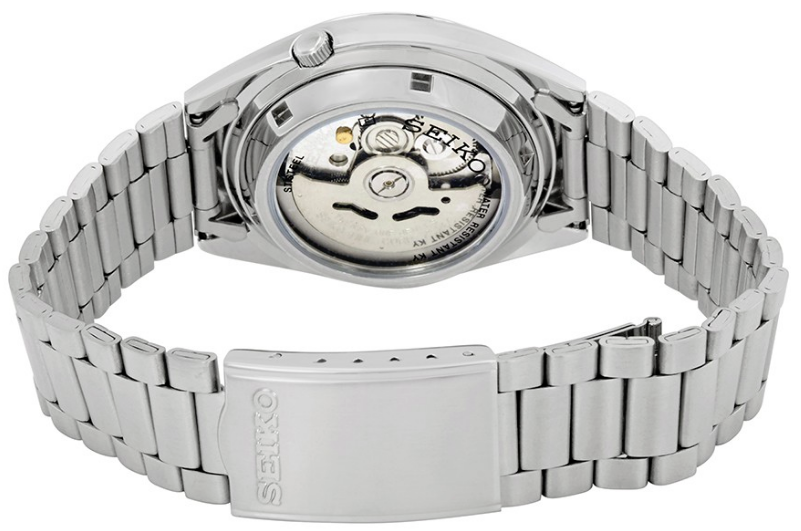 • Movement:
Type Automatic
Caliber 7S26
Jewels 21
Beats per Hour 21,600 bph(6 bps)
Power Reserve 43 Hours
Manual Winding No
Hacking No
Instructions Owner's manual
• Case
Case width 37mm (without crown)
Case Thickness 11mm
Case Material Stainless Steel
Case code 0480
Crystal Material Hardlex
Water Resistance 30 Meters(splashes & rain)
Crown Position 04:00
Screw Down Crown No
• Complication
Second Hand Yes
Minute Hand Yes
Hour Hand Yes
Day Window Yes
Date Window Yes
• Band
Band Width 18mm
Replaceable Band Yes
Band Material Bracelet
Band Color Silver
• Dial
Dial Color White
Dial Reference
Hour Markings Bars
On the Dial 5 Shield, "Automatic"
• Bezel
Bezel Color Silver
Bezel Function Fixed
Bezel Material Stainless Steel
On the Bezel Nothing
• Cost: $69 (NOK571) at creationwatches.com Oct 2018
Seiko 5 SRPB87K1
SEIKO 5 Dress / Sport watch #SRPB87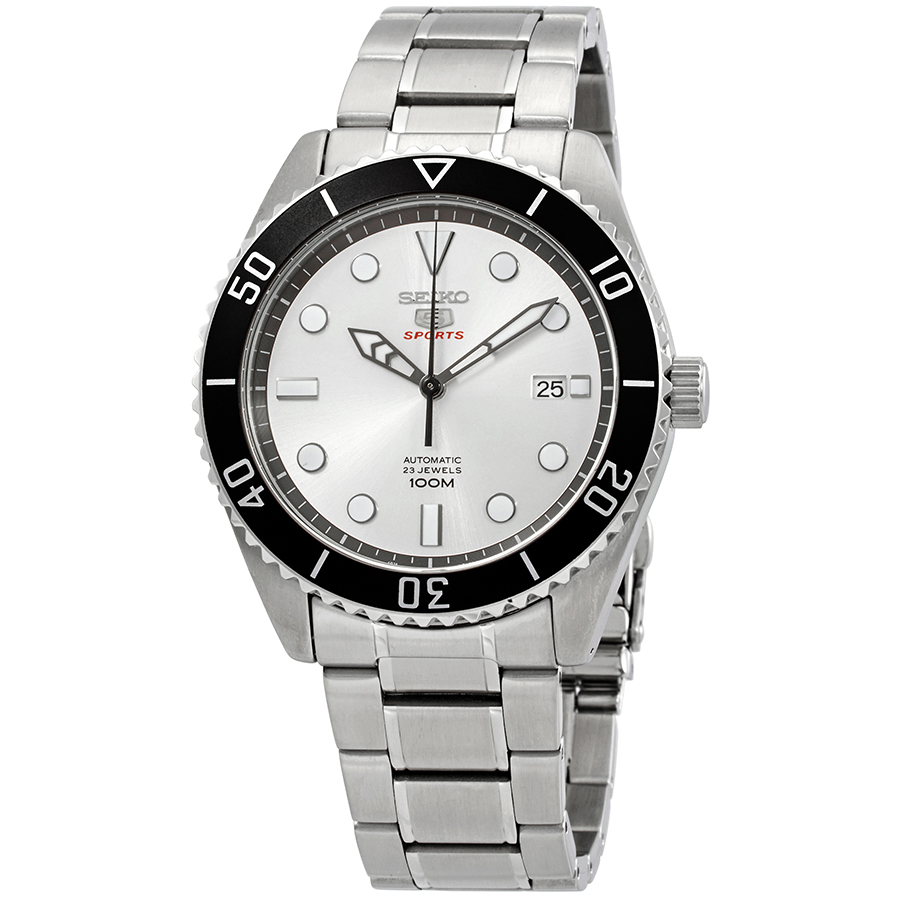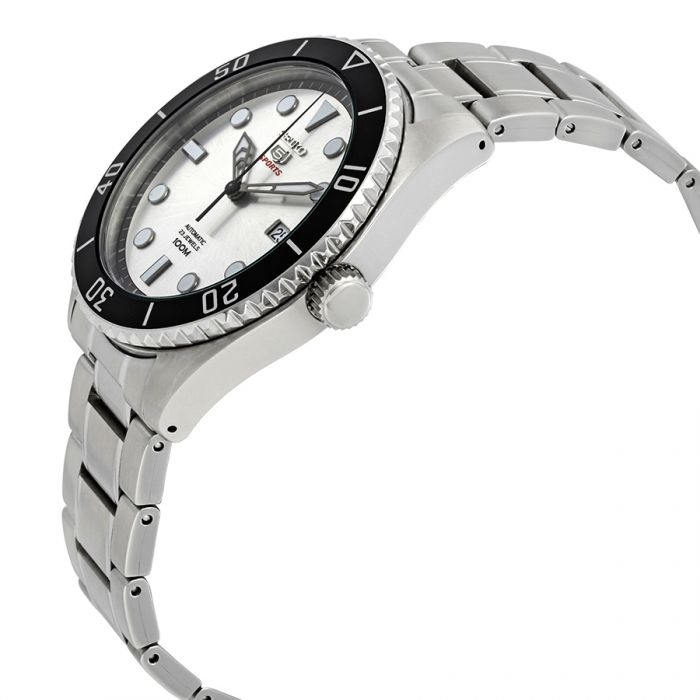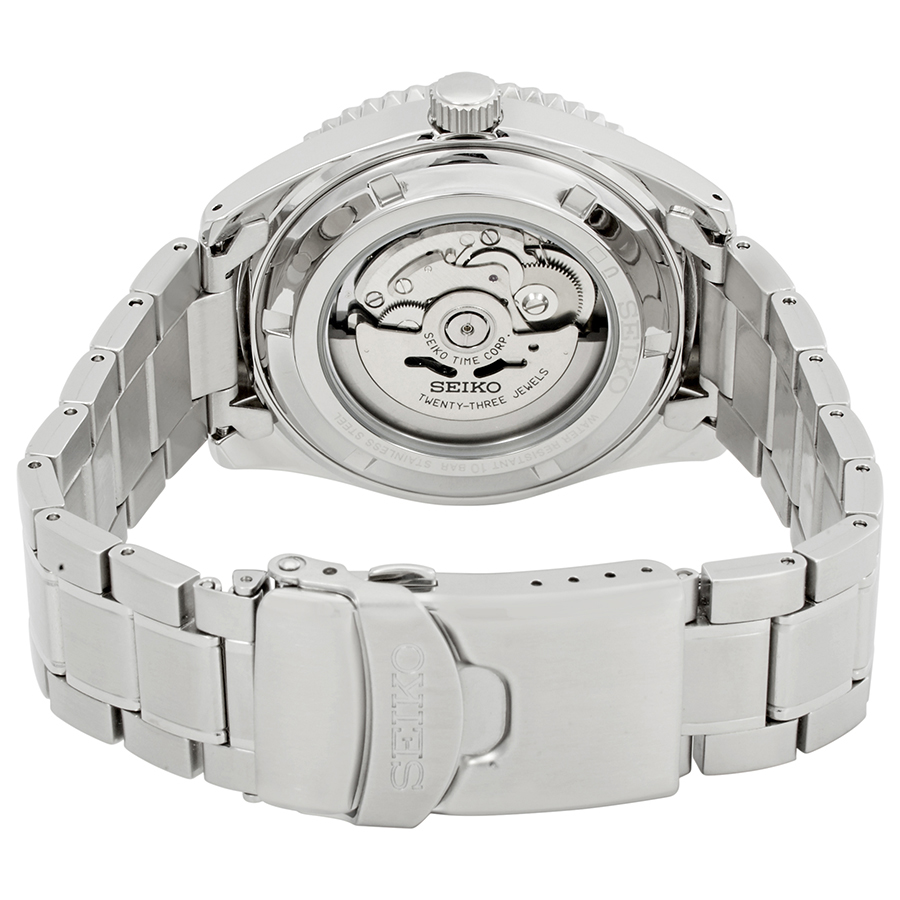 Modell: SRPB87K1
Produsenter: Seiko
Serie: 5
Type: Herreklokke, Dress / Sport modell
Diameter: Ø 44.00 mm
Tykkelse: 13.00 mm
Urkasse: Børstet/polert stål
Glass: Hardlex crystal front og vindu til urverk bak
Armbånd: Børstet og polert stål
Urskive: Sølvfarget med selvlysende markerer indeksmarkeringer, selvlysende visere
Spenne: Foldespenne i stål, bredde 22 mm
Bezel (ring): Stål, sort, dreibar mot klokken
Urverkstype: Seiko 4R35B, Automatiskt, selvtrekkende
Sekundvisere: Sklir jevnt
Urverk: Med 24 juveler
Type av dato: Dato
Vannbeskyttelse: 10 ATM
Annen info: Push/pull krone
Pris: NOK1257 at creationwatches.com Nov 2018

Seiko 5 7009
SEIKO 5 Dress / Sport watch 7009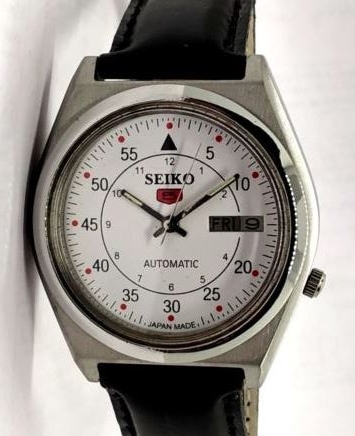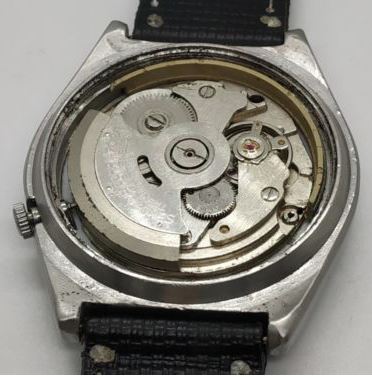 Modell: Seiko 5 7009
Produsenter: Seiko
Serie: 5
Type: Dress
Diameter: Ø 38.00 mm
Urkasse: Børstet/polert stål
Armbånd: Genuine Leather
Urskive: Hvit
Spenne: Foldespenne i stål, bredde 20 mm
Bezel (ring): Stål, fast
Urverkstype: Seiko 7009, Automatiskt, selvtrekkende
Sekundvisere: Sklir jevnt
Urverk: Med 19 juveler
Type av dato: Dato og dag
Vannbeskyttelse: ingen oppgitt
Annen info: Second hand from 1950-1959
Pris: NOK 200 at eBay aug-2019

Seiko 5 SNK607K1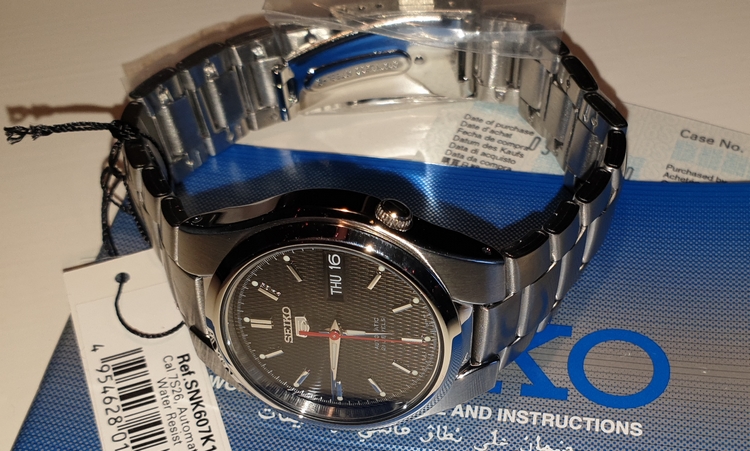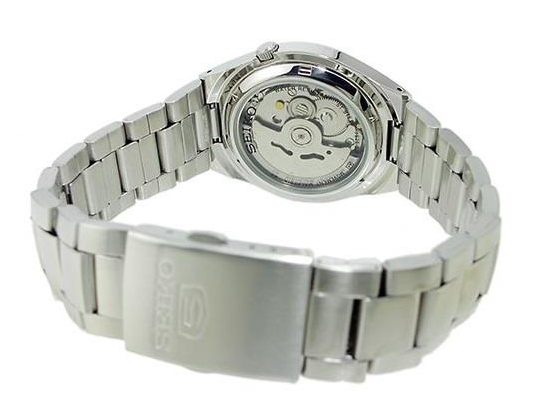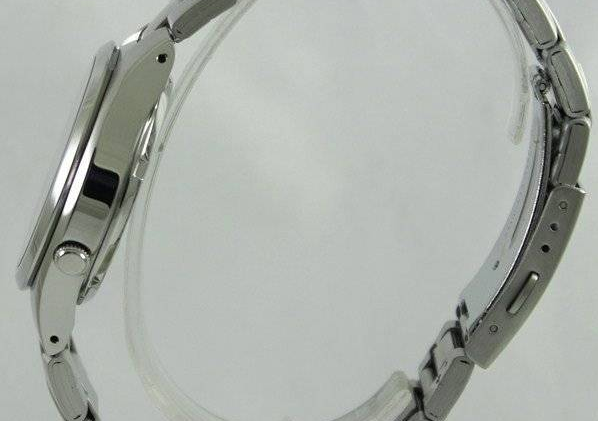 Modell: Seiko 5 SNK607K1
Produsenter: Seiko
Serie: 5
Type: Dress
Diameter: Ø ~36 mm
Tykkelse: Ø 11 mm
Urkasse: Børstet/polert rustfritt stål
Lenke: Rustfritt stål
Urskive: Sort
Urvisere: Selvlysende
Spenne: Foldespenne i rustfritt stål
Urverkstype: Seiko 7s26B, Automatiskt, selvtrekkende
Urverk: Med 21 juveler
Type av dato: Dato og dag
Vannbeskyttelse: 30m
Glass: Hardlex Crystal
Bakside: Gjennomsiktig
Gangreserve: Ved 1 Hz, 60 sving/min): 5 min = 300 sving = 31 timer 6 min = 360 sving = 38 timer 7 min = 420 sving = 42 timer 8 min = 480 sving = 45 timer
Pris: NOK 728 ($76.5, 48% off, free DHL shipping)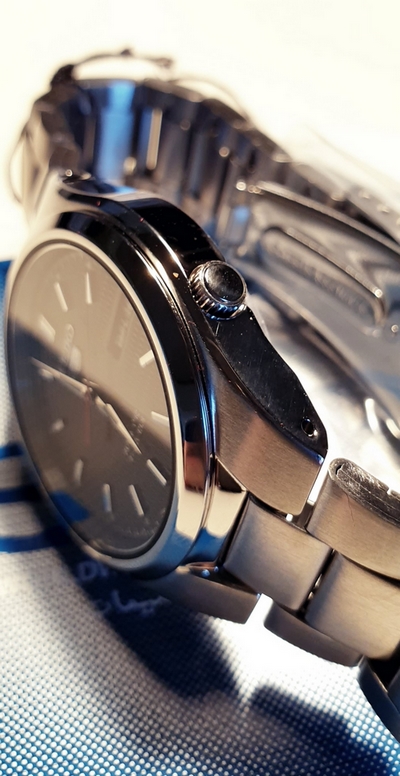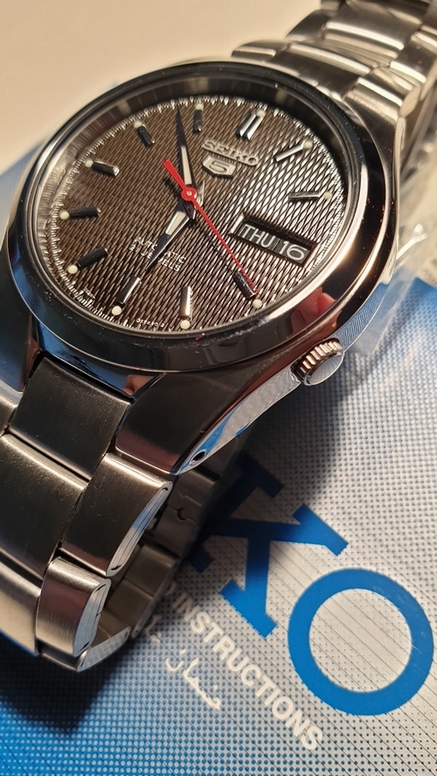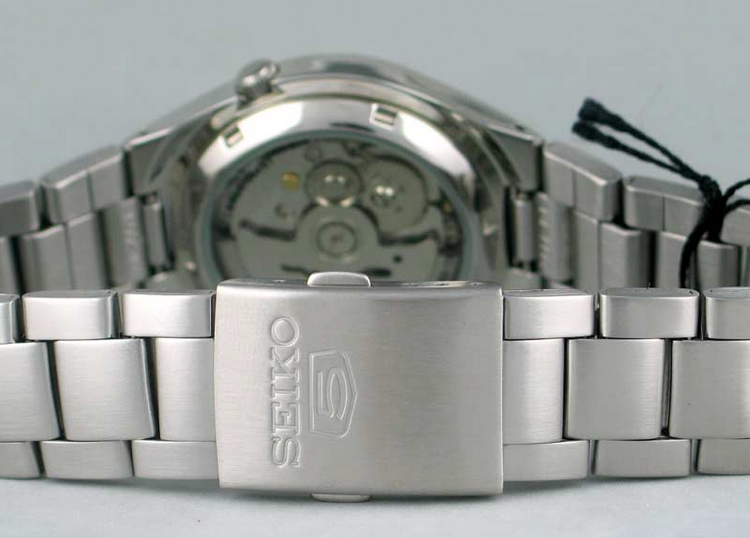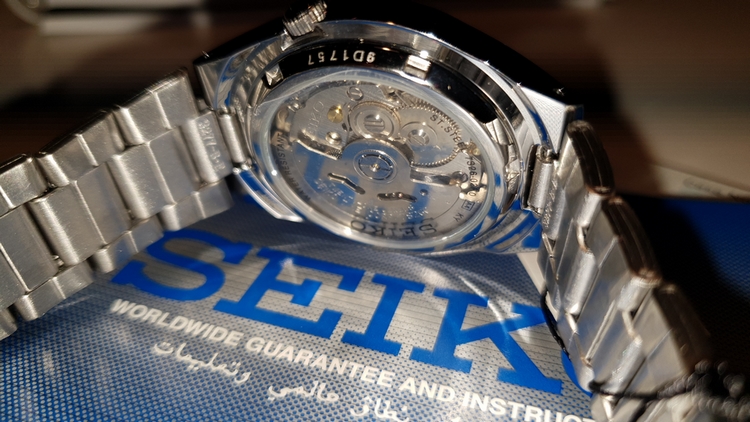 Seiko 5 SNXS79K1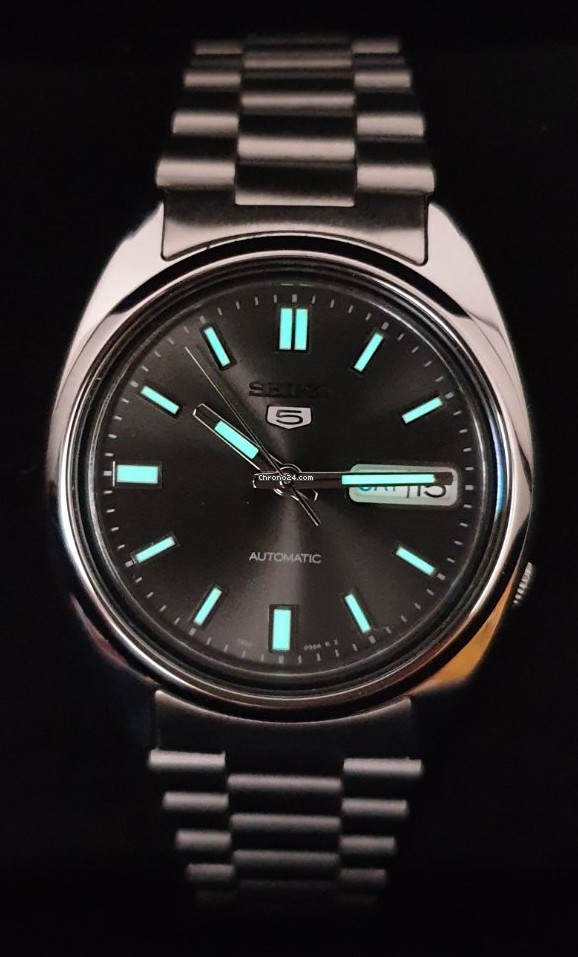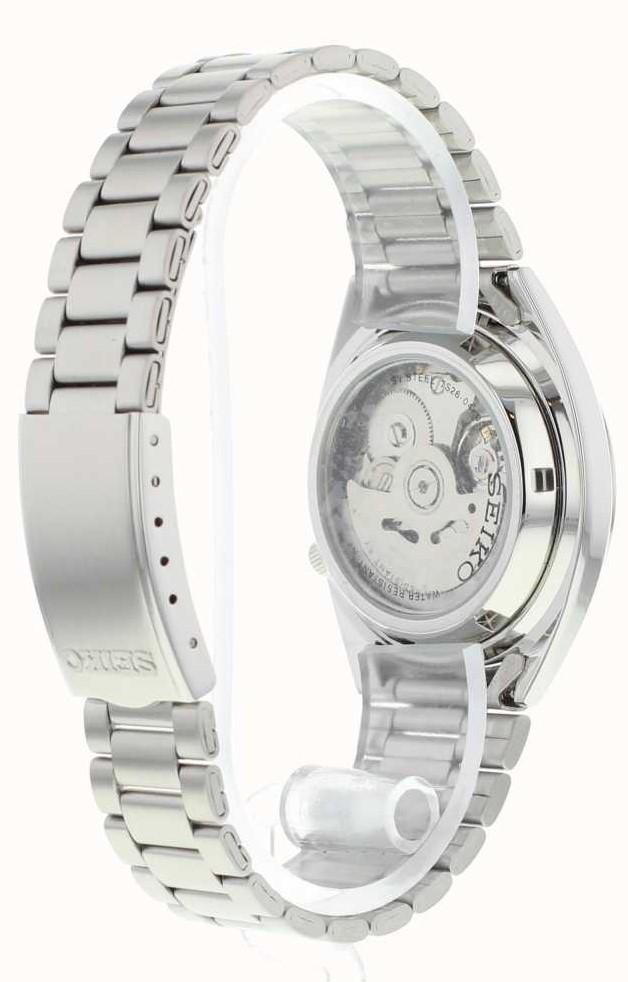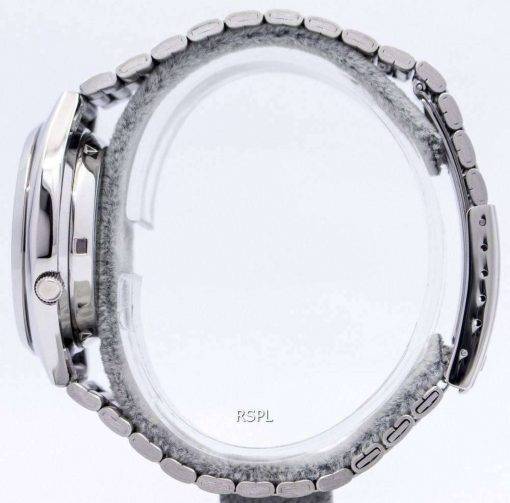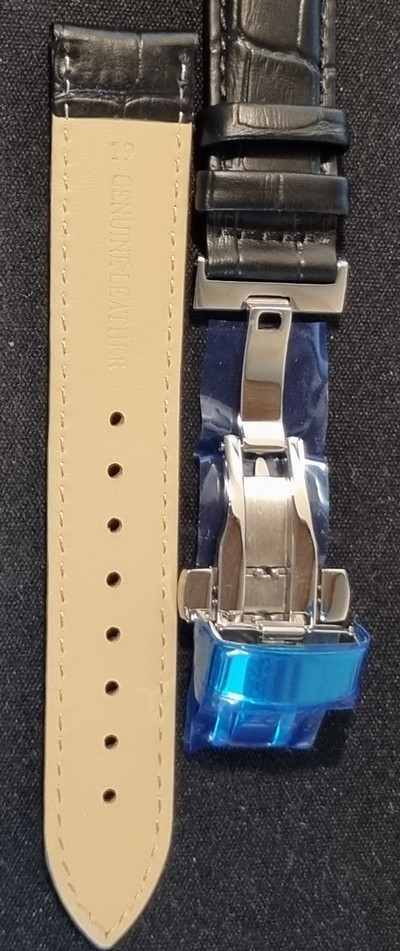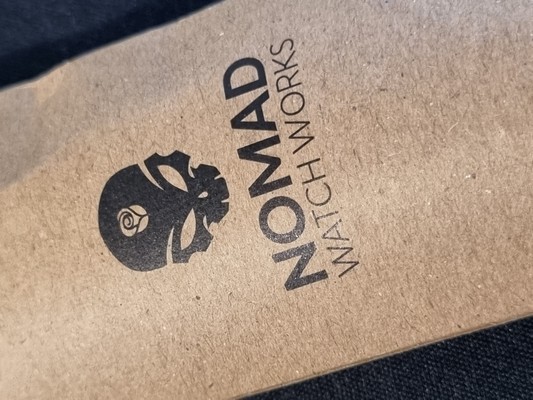 Modell: Seiko 5 SNXS79K1
Produsenter: Seiko
Serie: 5
Serie nr.: 120714
Type: Dress
Diameter: Ø ~36 mm
Tykkelse: Ø 11 mm
Hornstørrelse (Lug size): 19 mm
Urkasse: Polert rustfritt stål
Lenke: Rustfritt stål
Urskive: Sort
Urvisere: Selvlysende
Spenne: Foldespenne i rustfritt stål
Urverkstype: Seiko 7s26C, Automatiskt, selvtrekkende
Urverk: Med 21 juveler
Type av dato: Dato og dag
Vannbeskyttelse: 30m
Glass: Hardlex Crystal
Bakside: Gjennomsiktig
Gangreserve: Ved 1 Hz, 60 sving/min): 5 min = 300 sving = 31 timer 6 min = 360 sving = 38 timer 7 min = 420 sving = 42 timer 8 min = 480 sving = 45 timer
Pris: NOK 918 ($74, 46% off, free DHL shipping) mva 154,- tollbeh. 149,-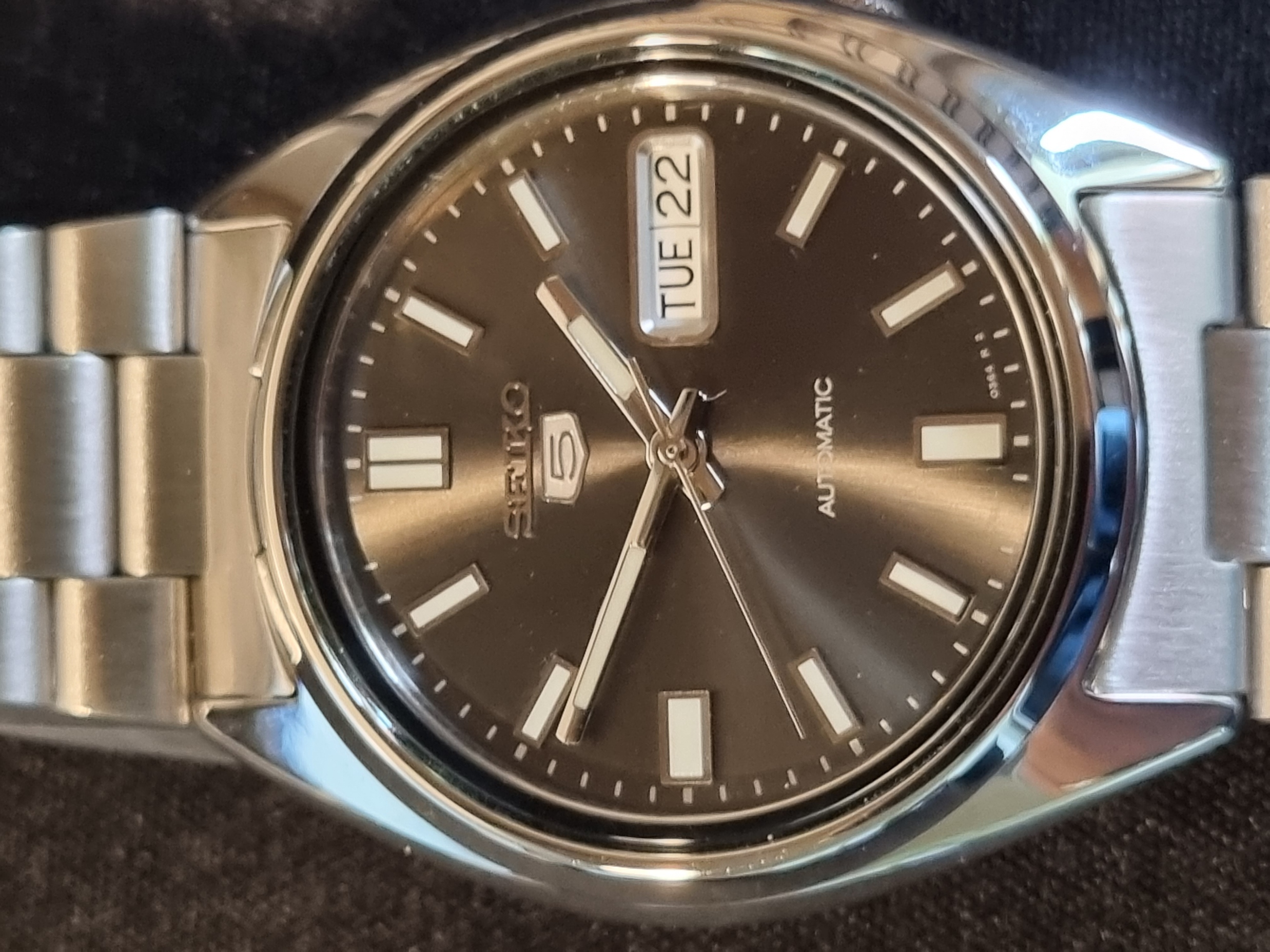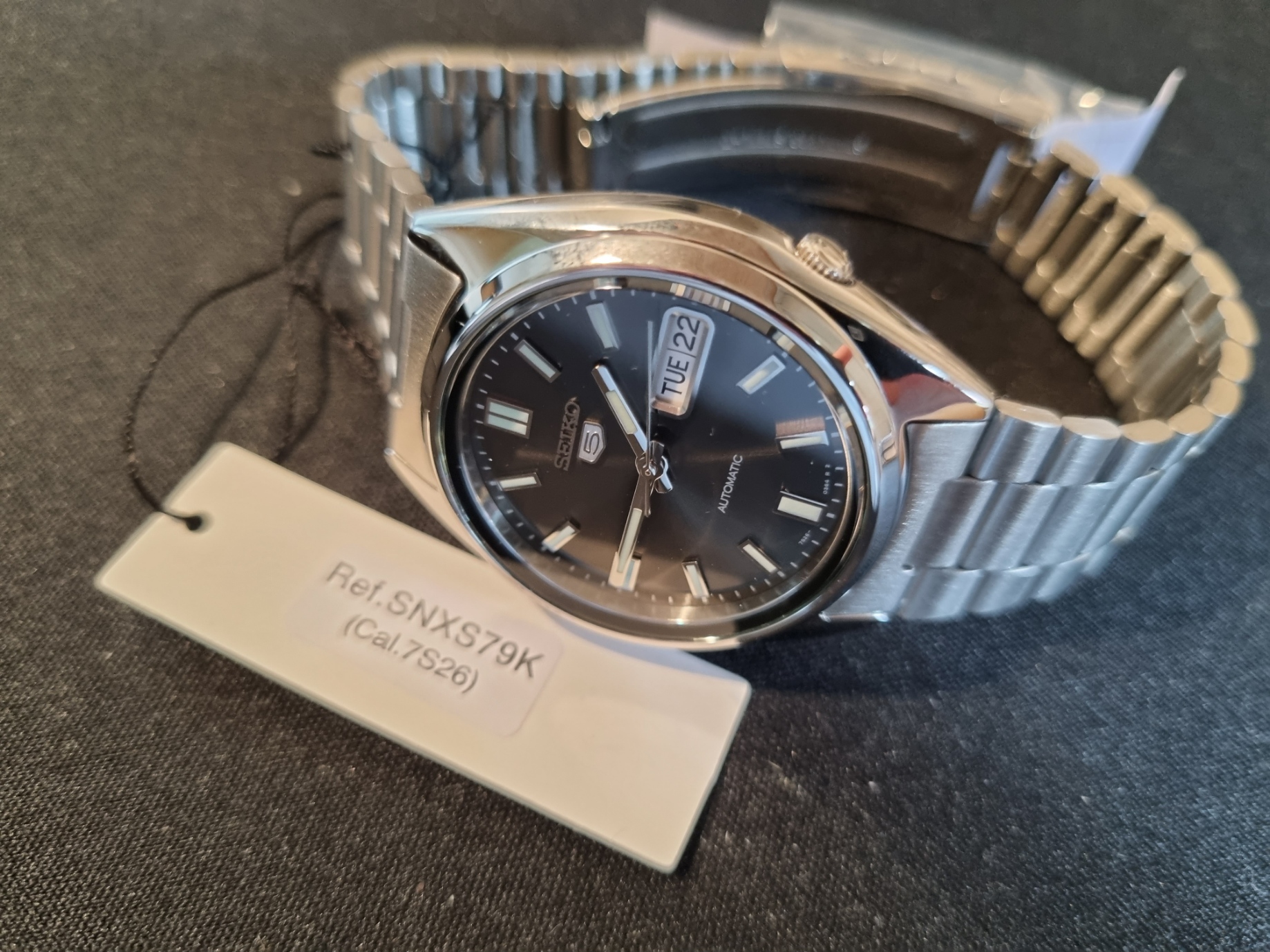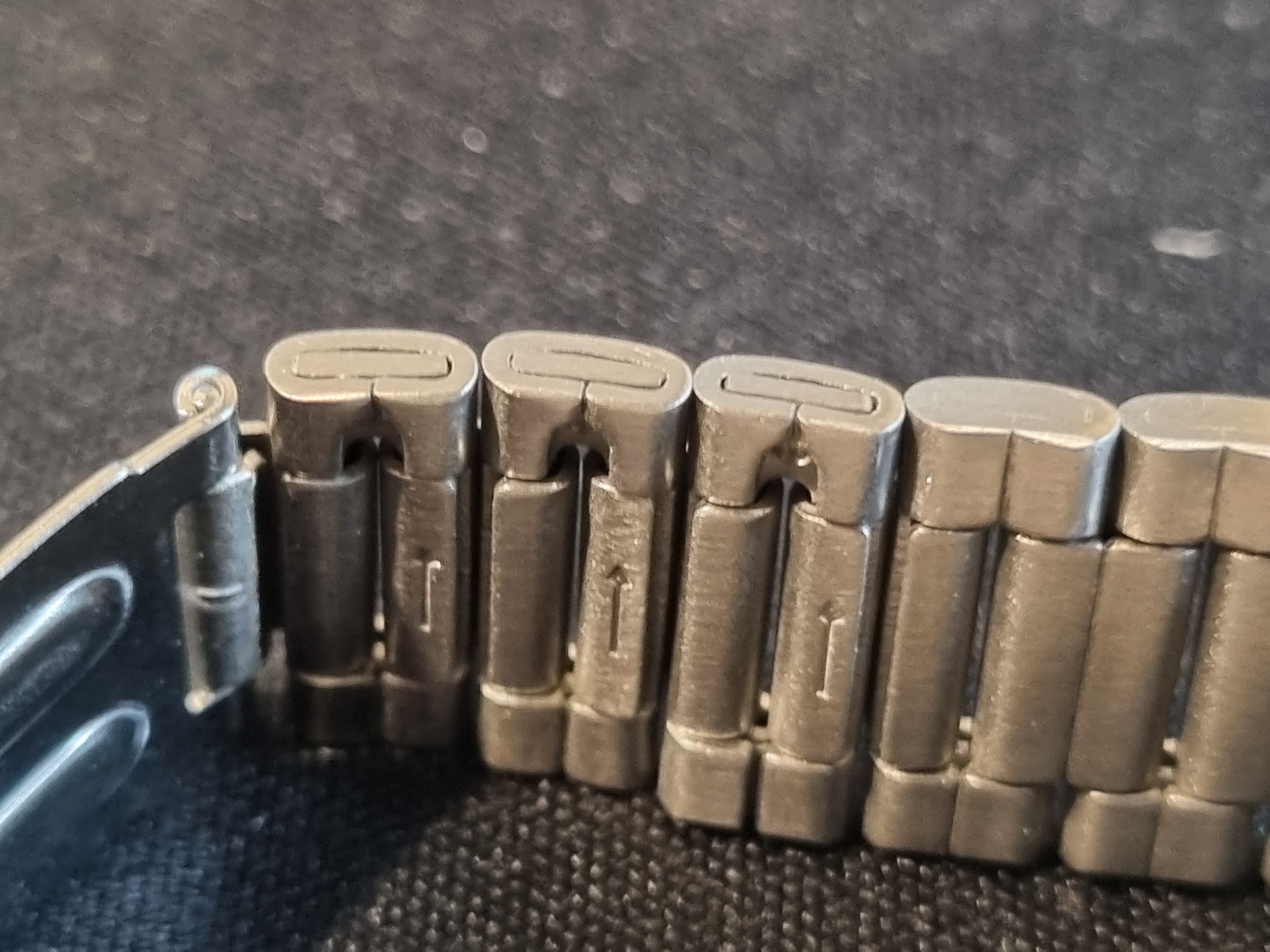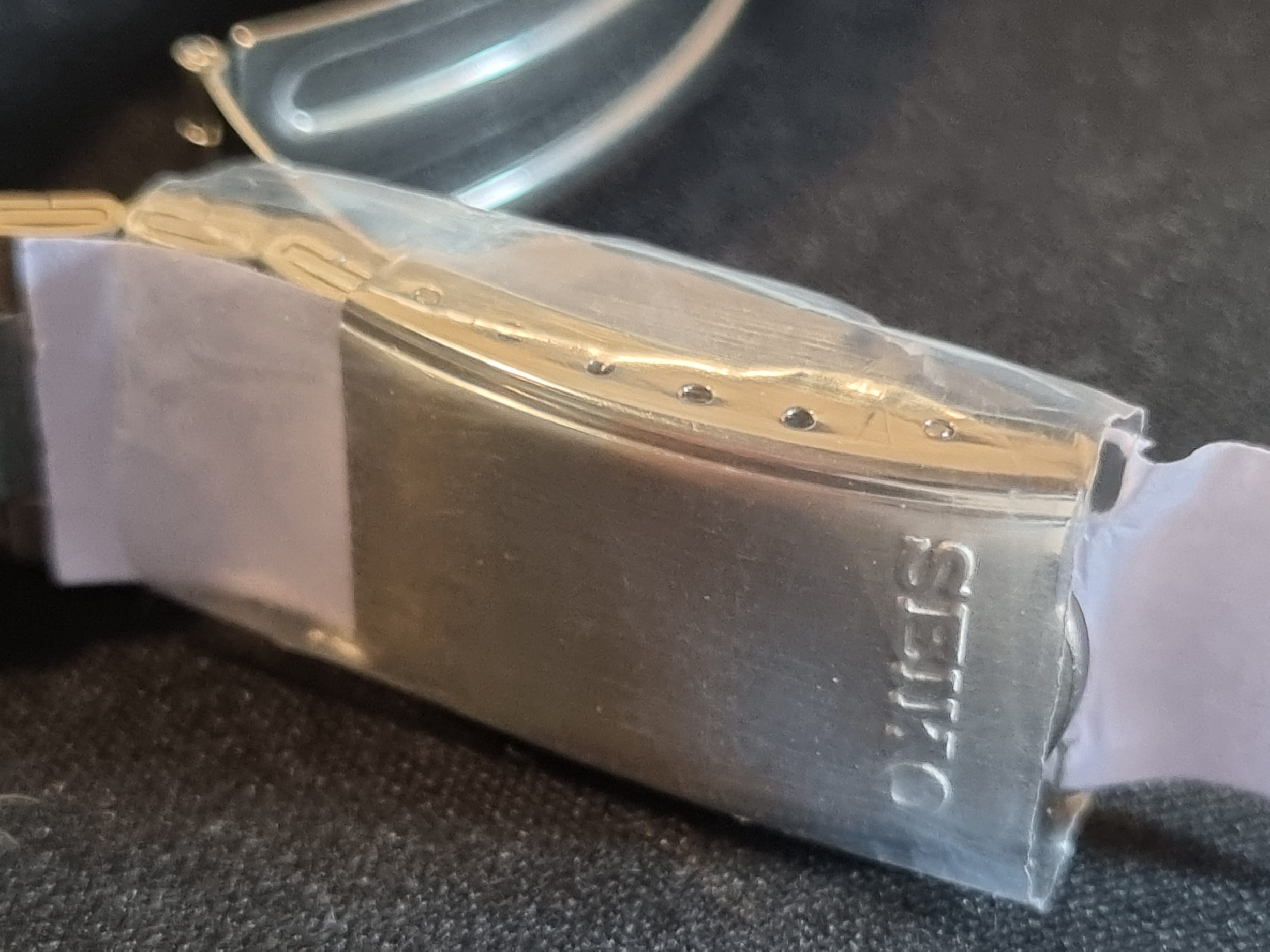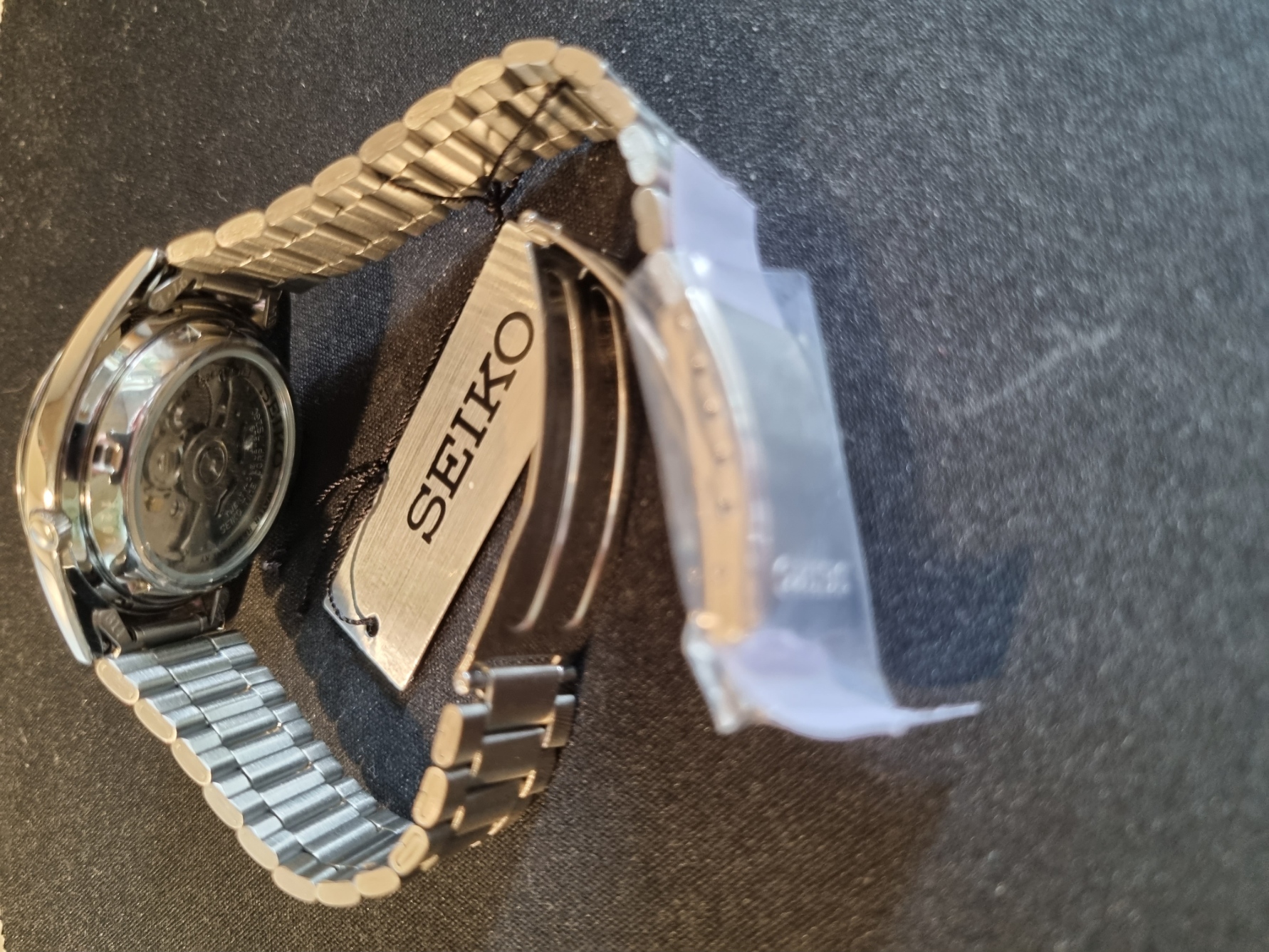 Seiko 5 SNK621K1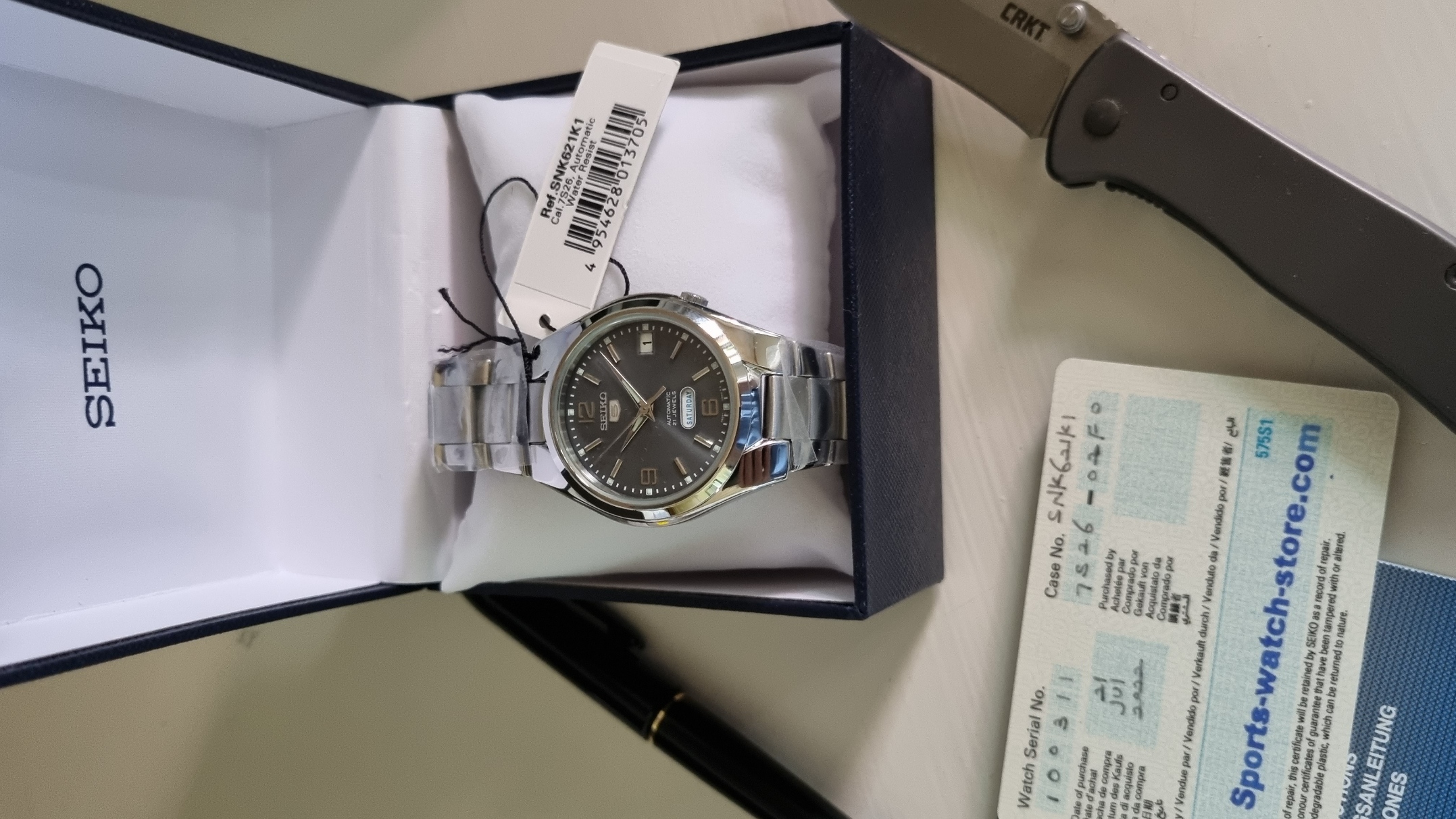 Modell: Seiko 5 SNK621K1
Produsenter: Seiko
Serie: 5
Serie nr.: 100311
Type: Dress
Diameter: Ø ~36 mm
Tykkelse: Ø 11 mm
Hornstørrelse: 10 mm (Lug size):
Urkasse: Polert rustfritt stål
Lenke: Rustfritt stål
Urskive: Sort
Urvisere: Selvlysende
Spenne: Foldespenne i rustfritt stål
Urverkstype: Seiko 7s26C, Automatiskt, selvtrekkende
Urverk: Med 21 juveler
Type av dato: Dato (ved kl.3) og dag (full dag ved kl.6)
Vannbeskyttelse: 30m
Glass: Hardlex Crystal
Bakside: Gjennomsiktig
Gangreserve: Ved 1 Hz, 60 sving/min): 5 min = 300 sving = 31 timer 6 min = 360 sving = 38 timer 7 min = 420 sving = 42 timer 8 min = 480 sving = 45 timer
Pris: US $107 free shipping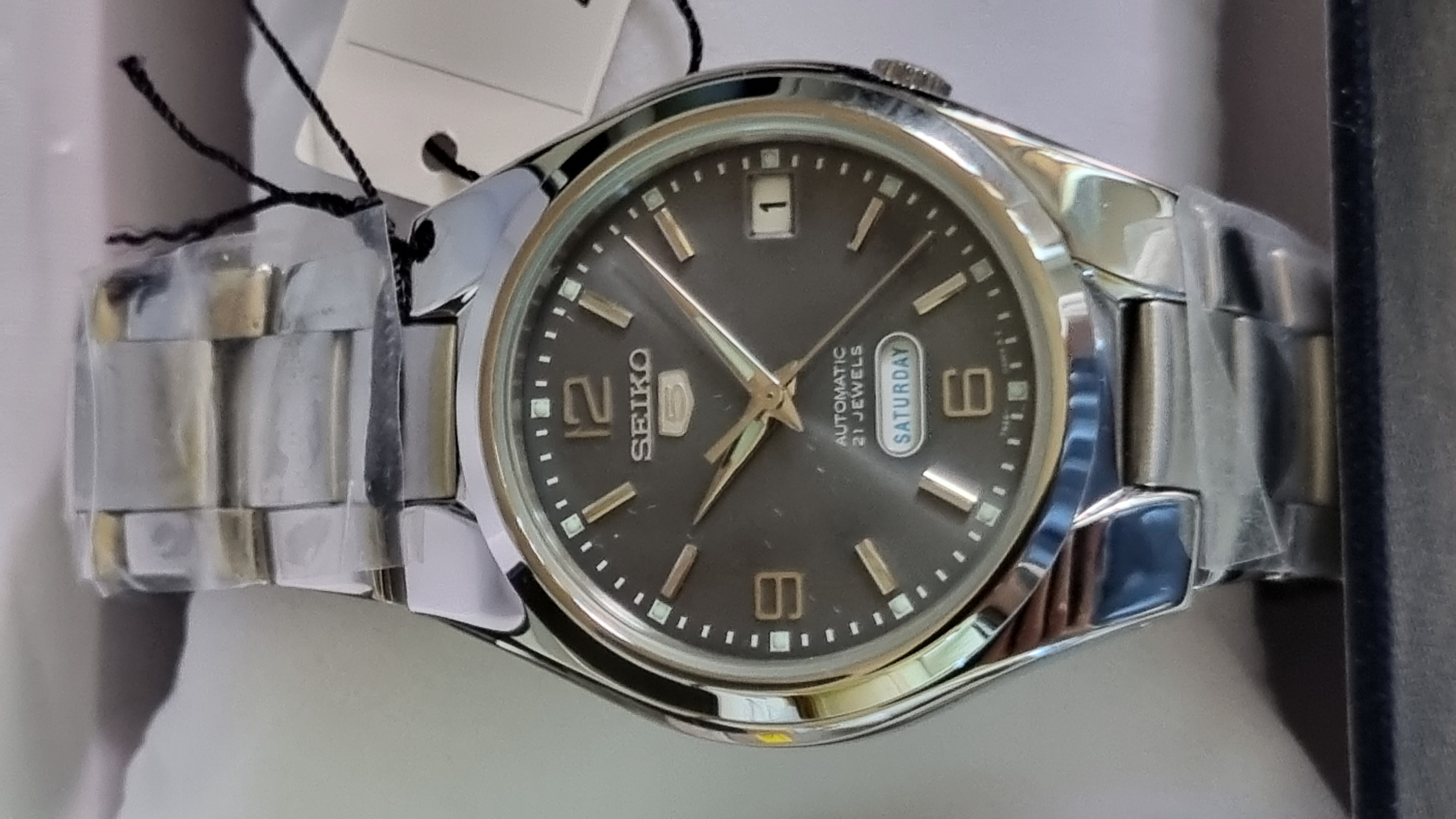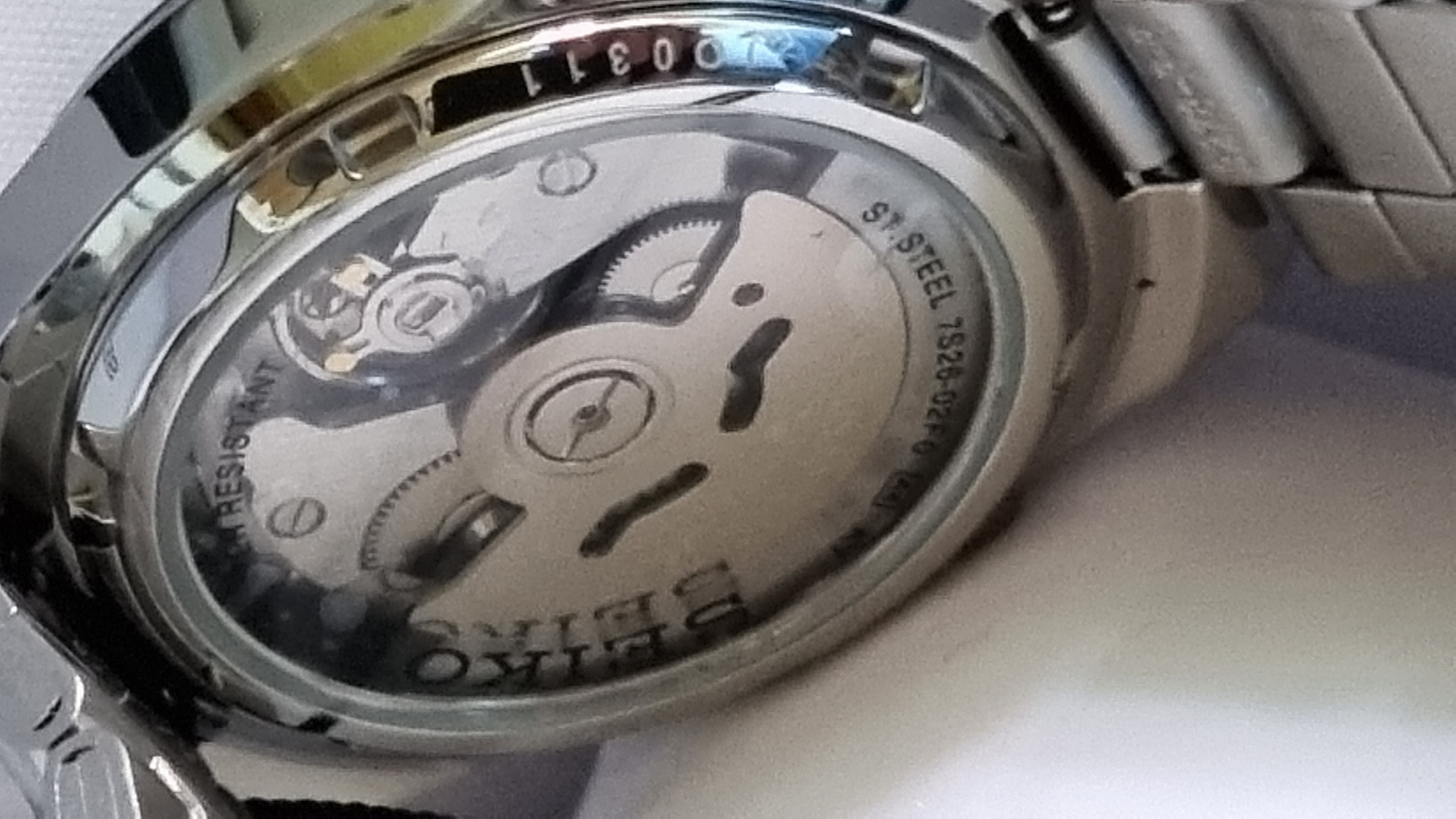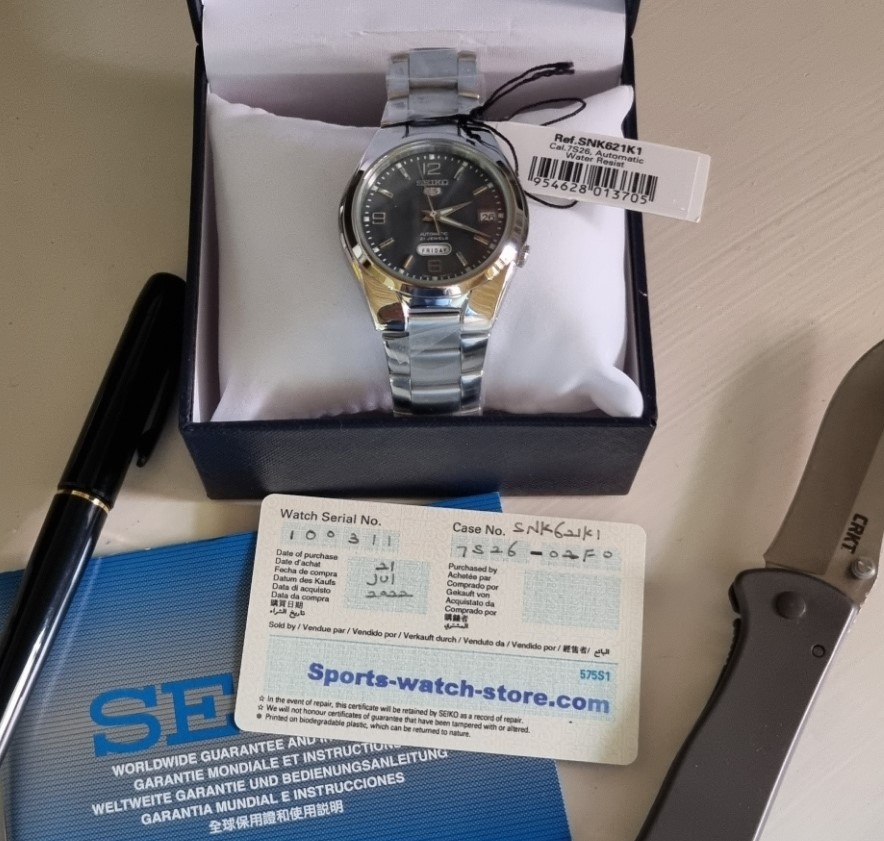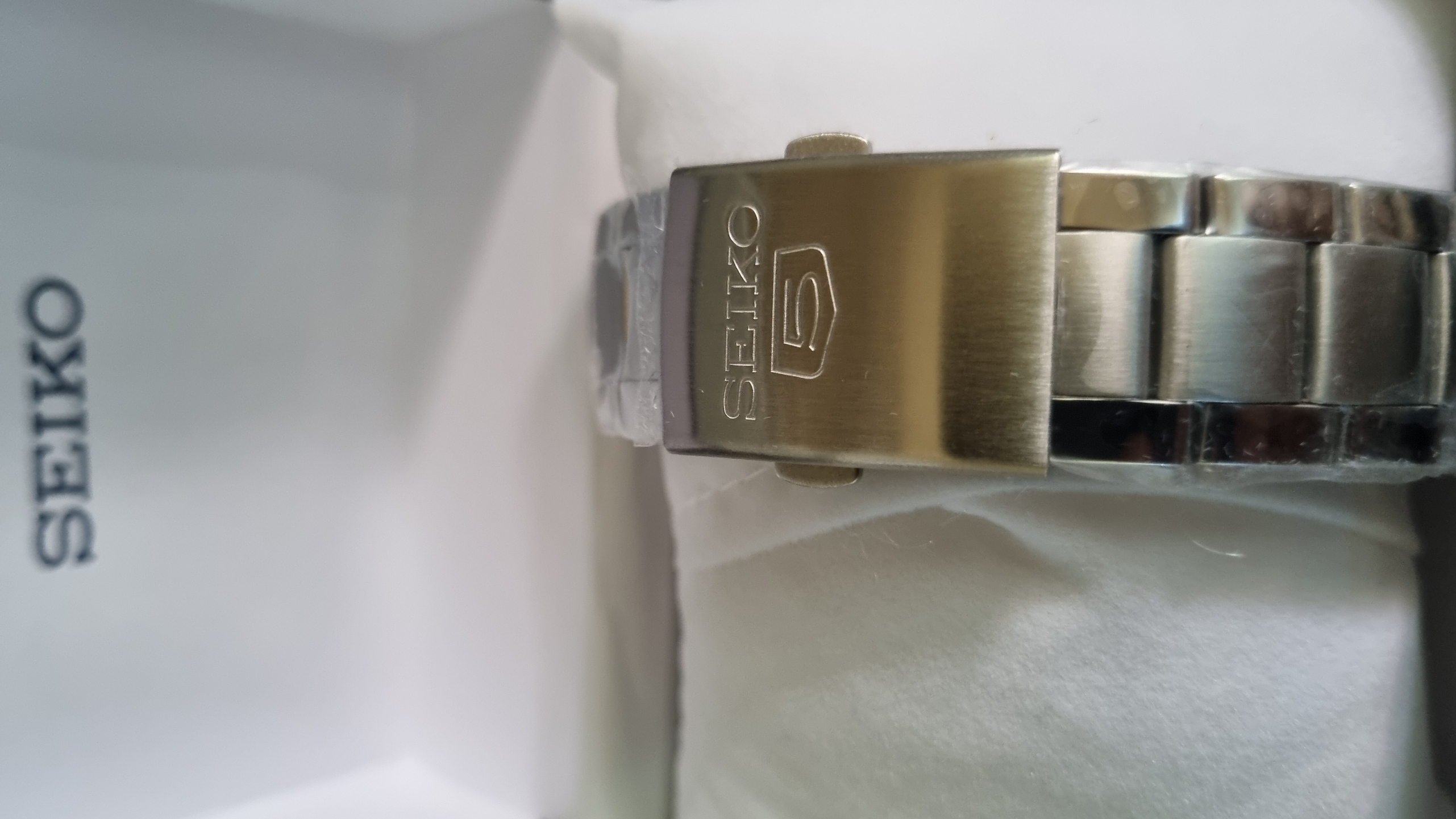 ---
The 7S26 family was introduced in 1996 as a mainstream automatic watch movement, replacing the Seiko 7002 in many cases. The 7S26A was the original movement, introduced in 1996. It was revised with an Etachron regulator in 2006, becoming the 7S26B. Another revision, the 7S26C began appearing in 2011. Like most Seiko movements, the 7S26 family operates at 21,600 vph. All models feature sweep hour, minute, and seconds hands. The 7S26 and 7S36 feature both day and date in a window, while the 7S25, 7S36 and 7S55 have only a date window. The 7S26 and 7S25 have 21 jewels while the 7S35, 7S36, and 7S55 have 23 jewels. The 7S55 is identical to the 7S35 except for a rotor decorated with Tokyo stripes for limited use in a line of Seiko 5 Superior watches from the late 1990's. The 7S26 movement family remains in production as of 2018, serving as the most affordable tier of automatic movements from Seiko. It is used in the SNK series of watches. Power reserve (At 1 Hz, 60 swings/min): 5min = 300 swings = 31 hrs 6min = 360 swings = 38 hrs 7min = 420 swings = 42 hrs 8min = 480 swings = 45 hrs. --https://www.watch-wiki.net