CreationWatches.com is a premier store to buy watches online. We carry a large range of Citizen Watches, Seiko Watches, Casio Watches, Tissot Watches, Hamilton Watches and many other brands. We offer FREE shipping to USA, UK, France, Spain, Australia, New Zealand, Canada, Greece, Russia, Netherlands, Singapore, Germany, Japan, Brazil, Italy, India, Denmark, Norway, Sweden, Finland, South Korea, Portugal etc. So if you wish to buy a watch online then look no further because you have come to the right place!

---
Bert Buijsrogge has worked in the real-estate business for 15 years. By combining his passion for watches and photography he slowly changed business directions. After buying his first vintage watch, over 20 years ago today, he went on a journey exploring the horological world. During this time he also became famous for his watch photography and created a several watch calendars for a couple of years. He has a strong interest in value for money when it comes to watches.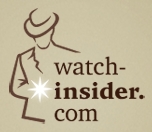 ---
Nyheter om klokker og fra klokkeindustrien

---
Dette er bloggen til nettbutikken urverk.no. Her vil du finne nyheter, tilbud og annet snacks.

---
Started in 2011 as WatchGeek, WristReview.com is one of the most widely read watch blogs in the world. You'll find a passion from our writers that's hard to match. With constantly updated news, reviews and critiques, WristReview.com caters for all levels of luxury from entry-level to Haute Horlogerie. WristReview also covers watch events such as SIHH and BaselWorld.