Model 233LTTW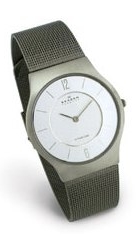 My choise of 10 year employment gift from HP
Ion plated titanium mesh band, large round brushed titanium case with white dial and 12 titanium indicators.
Price: $100.00 in 2005
Weight: 42 gram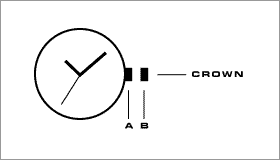 A: Normal Position
Crown should be kept in this position when wearing the watch as the crown seals the case against dust and water.

B: Time correction position
Pull out the crown by one click when the second hand reaches the 12:00 position. Then set the hour and minute hands.
After the time is set, push the crown back to "A" position simultaneously with the time signal. The second hand will start running at the same time.