Swatch Windfall YCS410GX, Irony Chrono 1999
Original battery: Renata 394 eller 380 (SR936SW/SR936W) 9.5 x 3.6 - 1.55V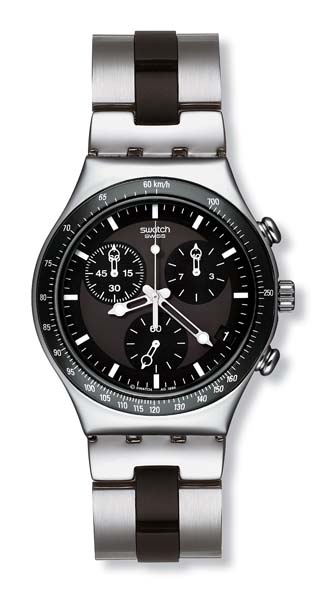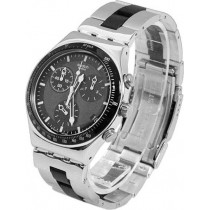 Collection Spring / Summer 2005
Family Irony Chrono, 1999
Case Black, Steel Stainless Steel
Dial Black
Strap Silver Bimaterial Adjustable
Case Dim. 40 mm wide (1.57 in) x 46 mm long (1.81 in) x 12.3 mm thick (0.48 in) [Large]
Battery Life 2 years
Warranty 2 years
Movement Swiss Made ETA Quartz
Water Resist. 30 Meters / 32.8 yd. / 3 bar
Features Chronograph, Date, Glowing in the dark, Tachometer, Water-resistance
Weight 118 gram
---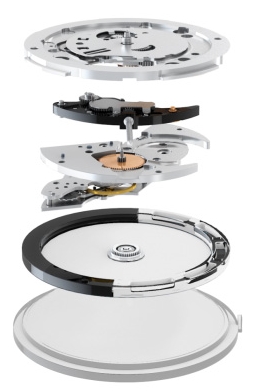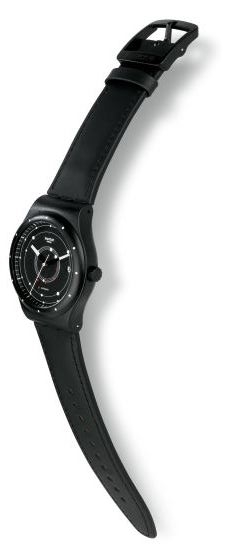 Collection Sistem Black SUTB400 year 2013
Family Sistem51
Case Plastic
Movement Automatic, 3Hz
Strap Leather
Case Dim. 42 mm wide (1.57 in) x 50.6 mm long (1.81 in) x 13.6 mm thick (0.48 in)
Functions Automatic, Date, Glowing
Warranty 2 years
Water resist. 30 m / 32.8 yd.
Weight 37 grams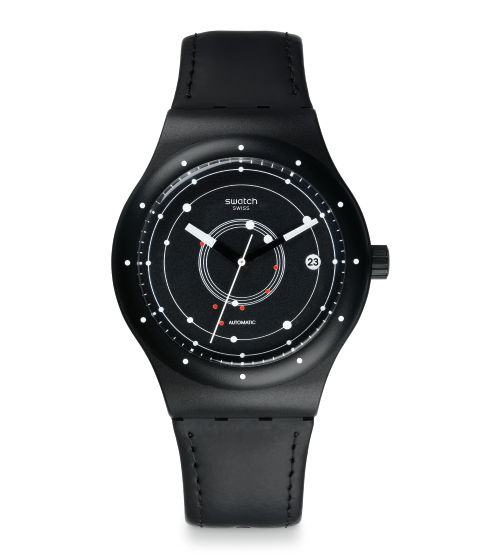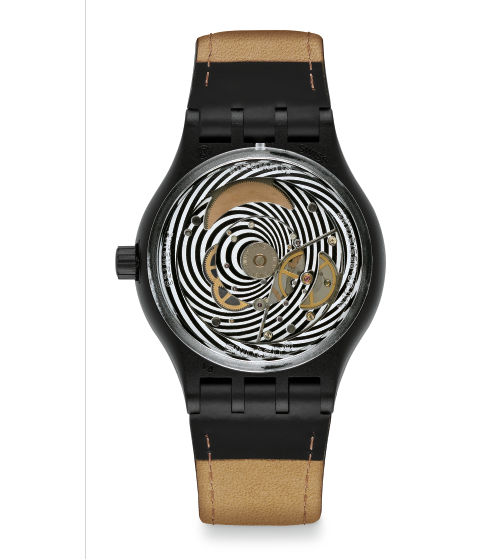 ---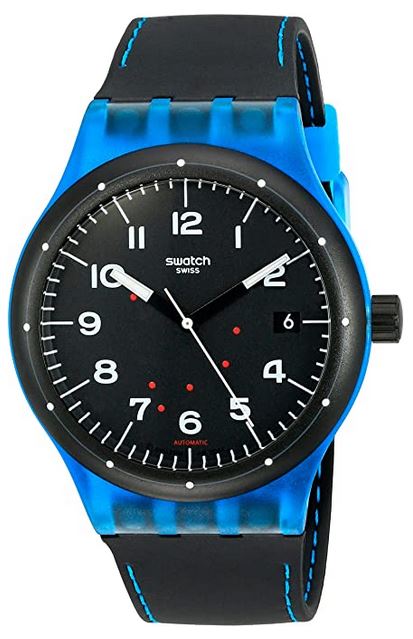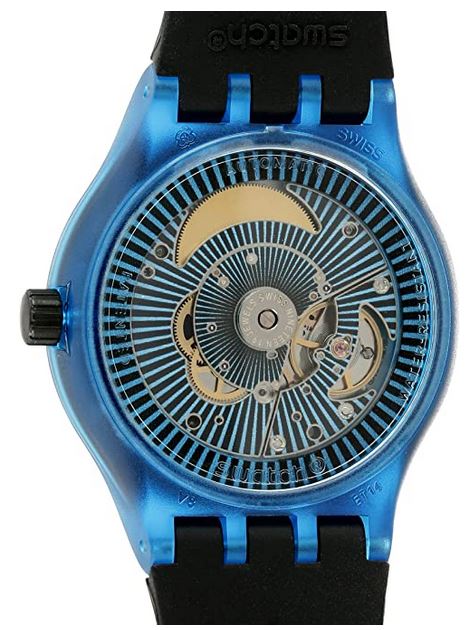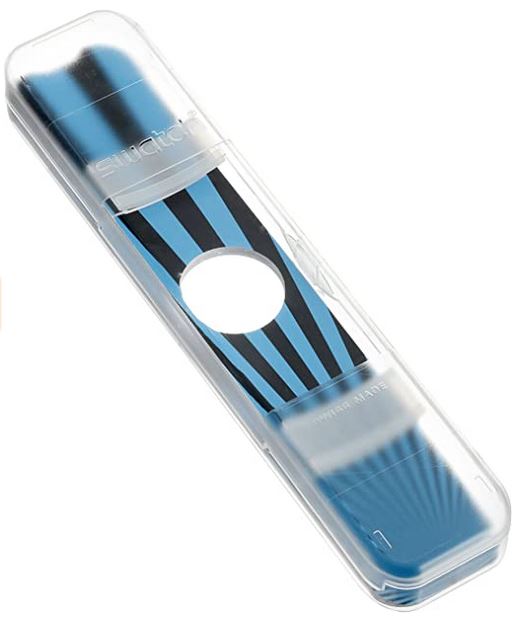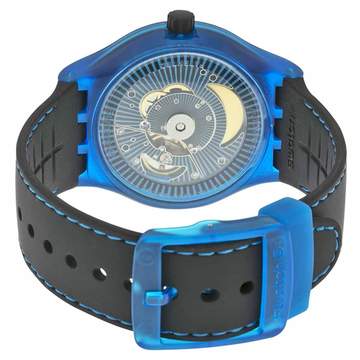 Collection Sistem51 SUTS402 January 2015
Family Sistem51
Case Plastic
Movement Automatic, 3Hz
Strap Leather
Case Dim. Ø 42 mm x T 13,9 mm H 50,6 mm
Functions Automatic, Date
Water resist. 30 m / 3 bar
Weight 59 grams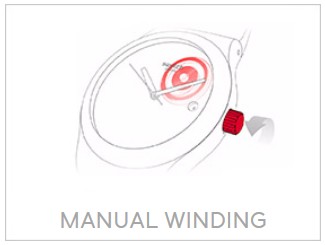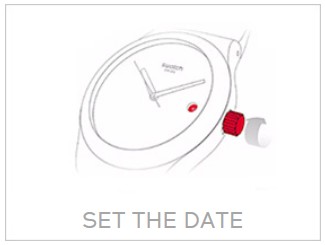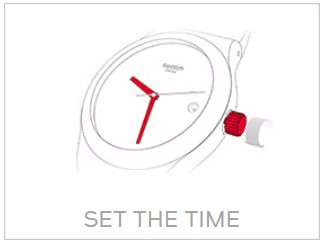 SISTEM51 is 100 percent Swiss made and feature an exceptional 90 hour power reserve. Hermetically sealed within its case (no maintenance possible). 17 (pending) patents enabled the development in less than two years, of a self-winding mechanical movement with only 51 parts in five modules. Brought together with only one screew.
---
SWATCH - SSK100 COFFEE BREAK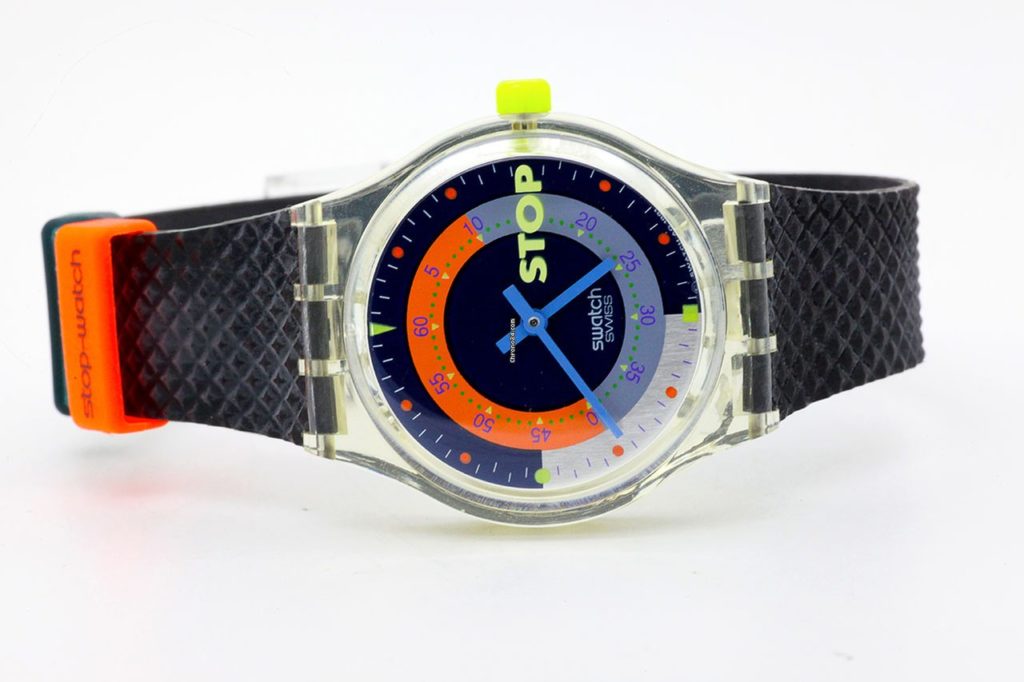 Swatch Stop Watch JESS RUSH was made in a series of only 17 models produced from 1992 to 1994. They have the size of a normal Gent but have a second function, which allows you to stop times for a short time. It is operated exclusively by the central crown. By pressing it once, the stopping process is started and also ended in the same way. The determination of intermediate times is not possible. The dial of the watch is dominated by two circles with fine scales to accurately determine the time. The plastic case is transparent, the black strap is also made of plastic.
Vintage
Case Material: Plastic
Strap Material: Plastic
Water-resistance: 3 bar
Case Width: 34.00 mm
Case Height: 39.20 mm
Case Thickness: 8.75 mm
Product Line: Originals
Product Family: Gent
Year: 1992
Reference: SSK100

1990s Swatch Stop Watch - Variation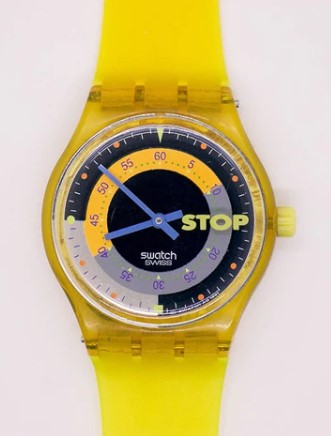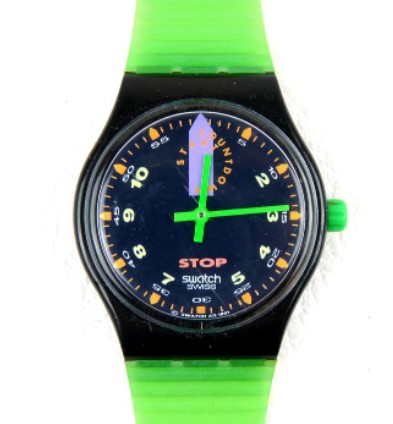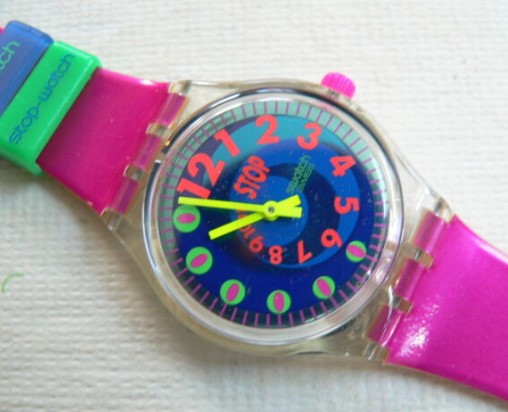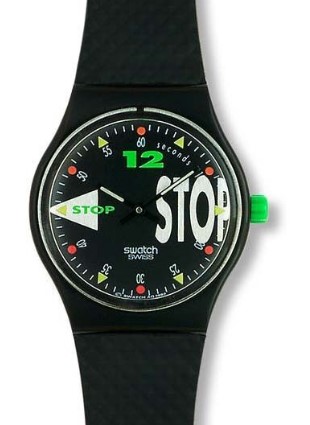 ---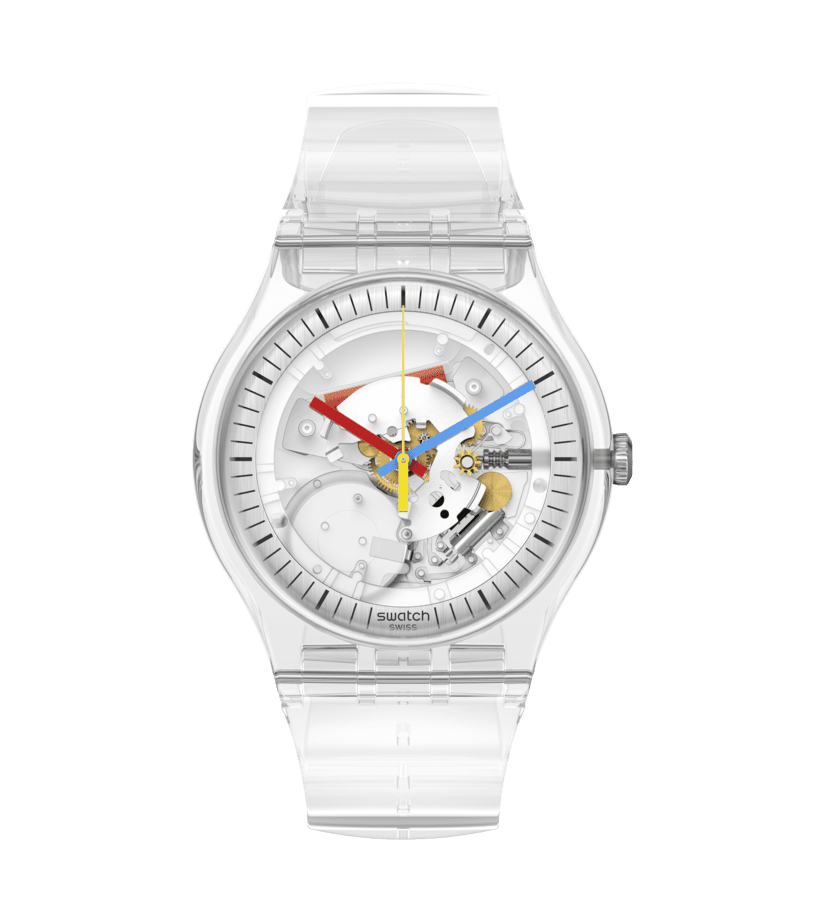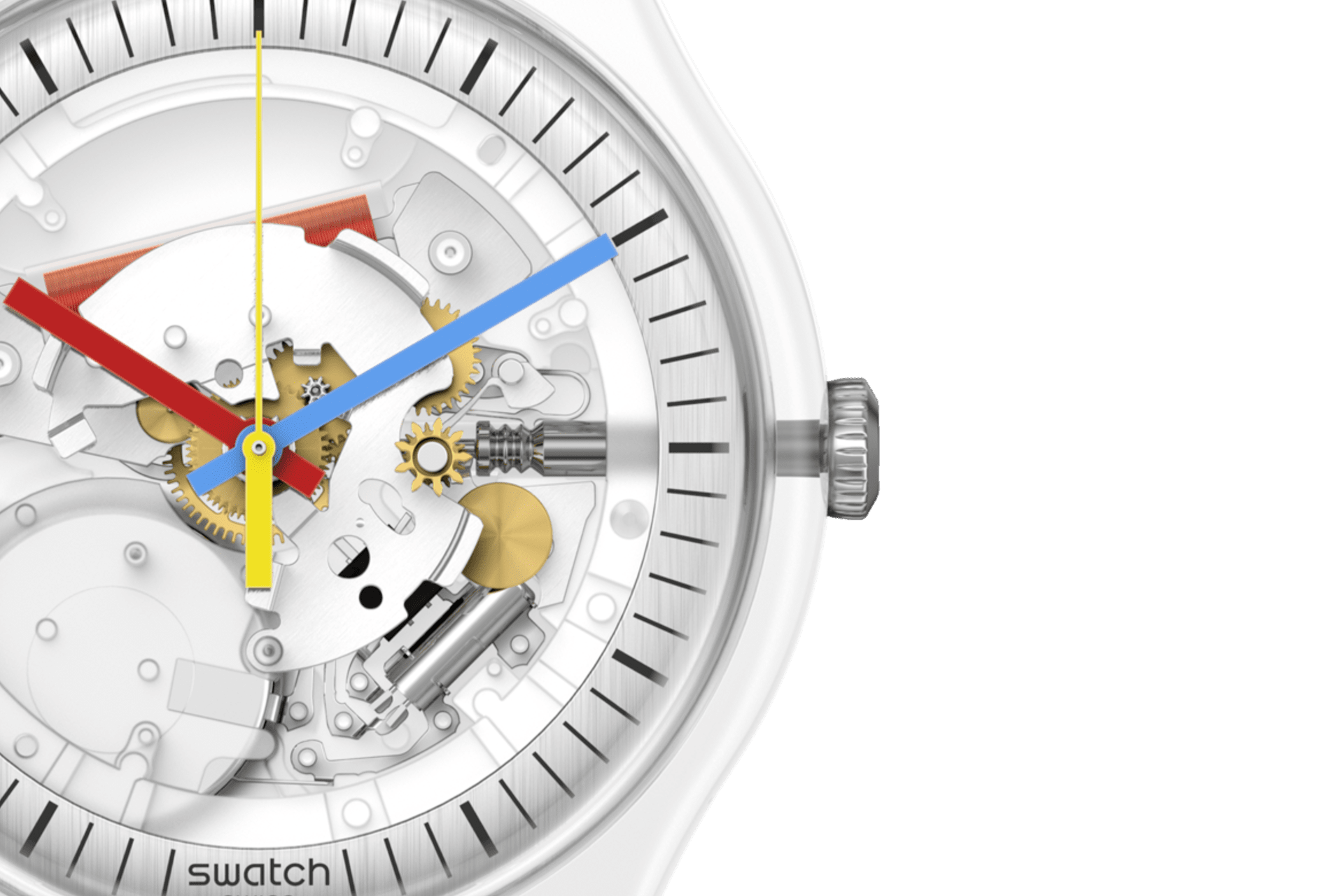 Perfect for a fresh start, CLEARLY NEW GENT goes back to the model's roots with a clear strap and transparent bio-sourced case. With a silver-colored dial, the essence of time itself is clear.
Collection RESET. Go Clear - CLEARLY NEW GENT Ø41mm
Family Swatch Clear
Case Plastic
Movement Quartz
Water resistant 3 bar
Clasp material Plastic
Strap buckle Buckle
Color Transperant
Price NOK 820

MOVEMENT Quartz, WATER RESISTANT 3 Bar, STRAP MATERIAL Plastic, CLASP MATERIAL Plastic, STRAP BUCKLE Buckle, CASE MATERIAL Bio-sourced material, Watch size: 41.00, Thickness 9.85, Height 47.40
SO29K100 - This transparent watch captures the simplicity of time, and features a clear shiny case in bio-sourced plastic and a clear TPU strap. A clear winner, this watch has a a silver-colored ring that gleams on the dial with red, blue and yellow hands and black indexes.
Variations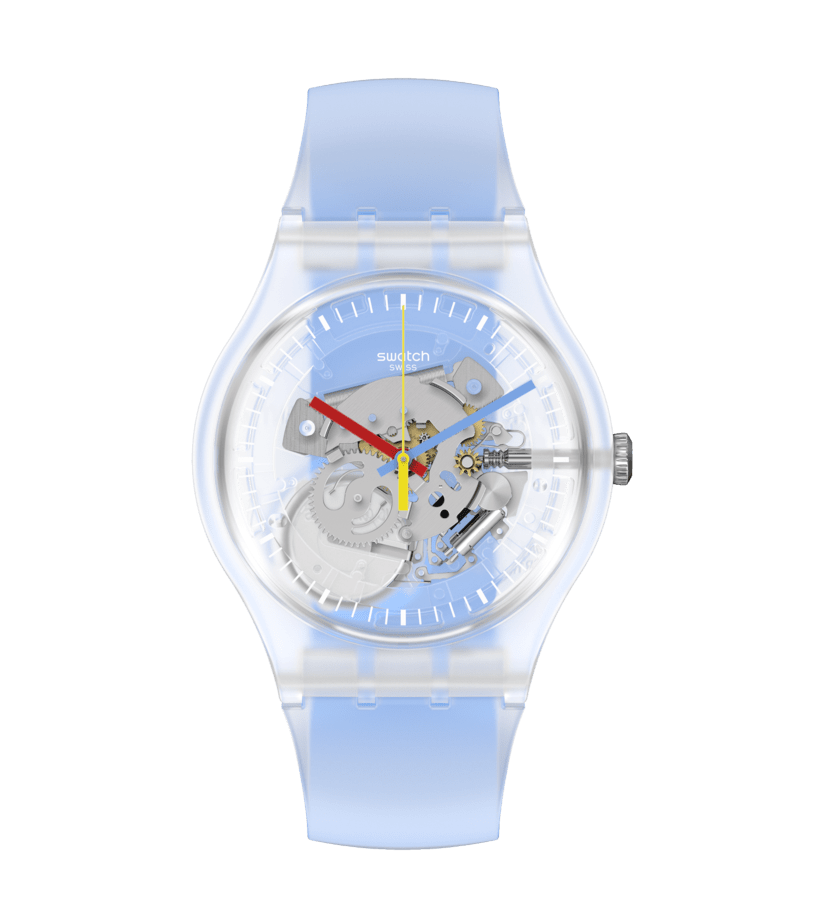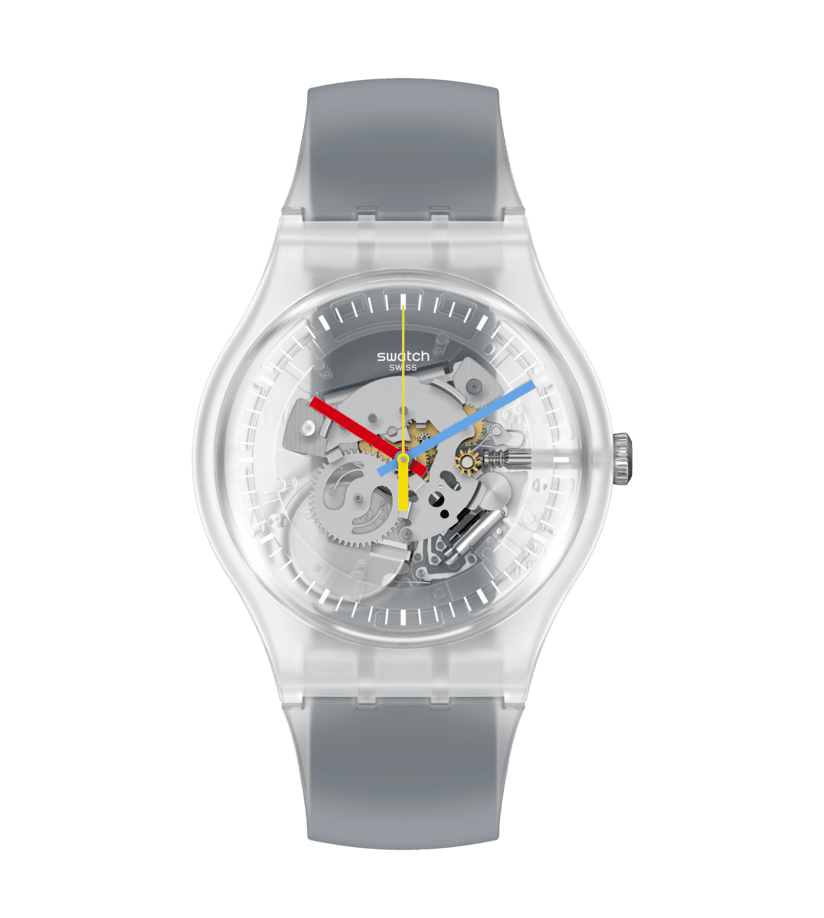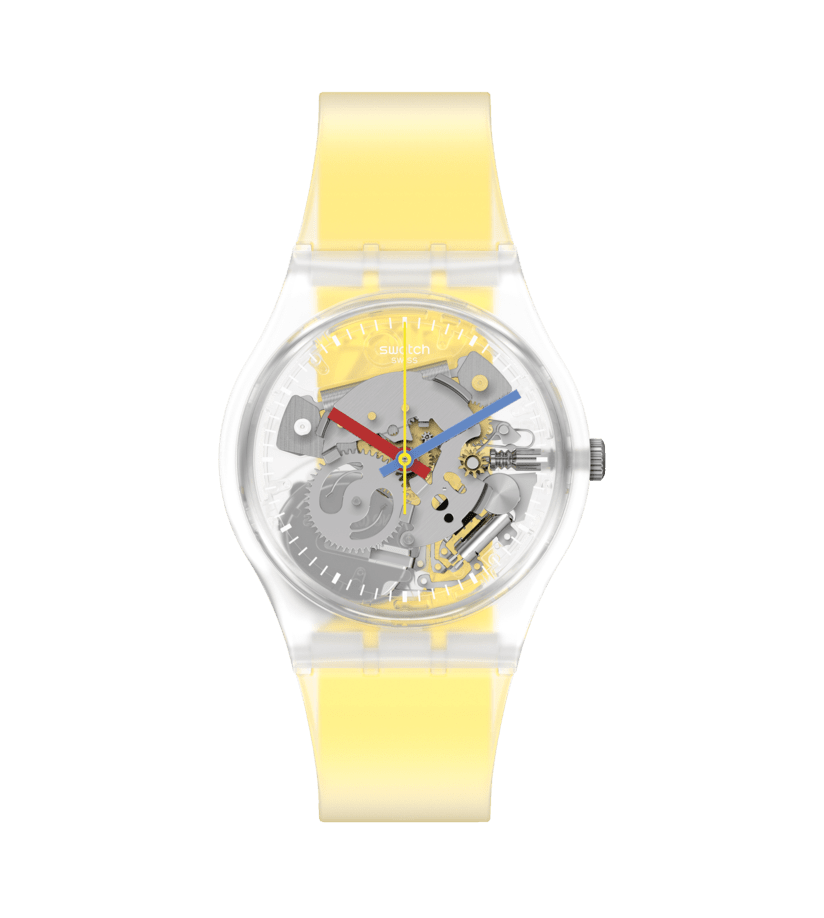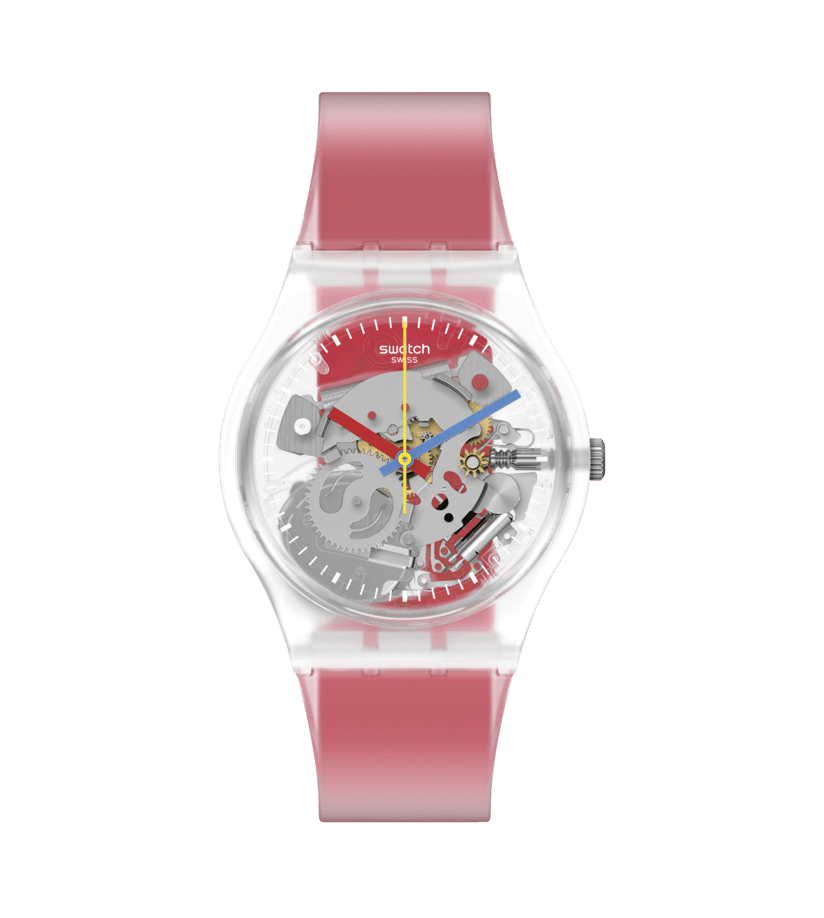 ---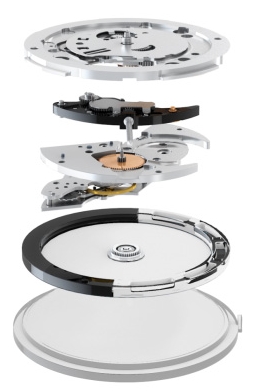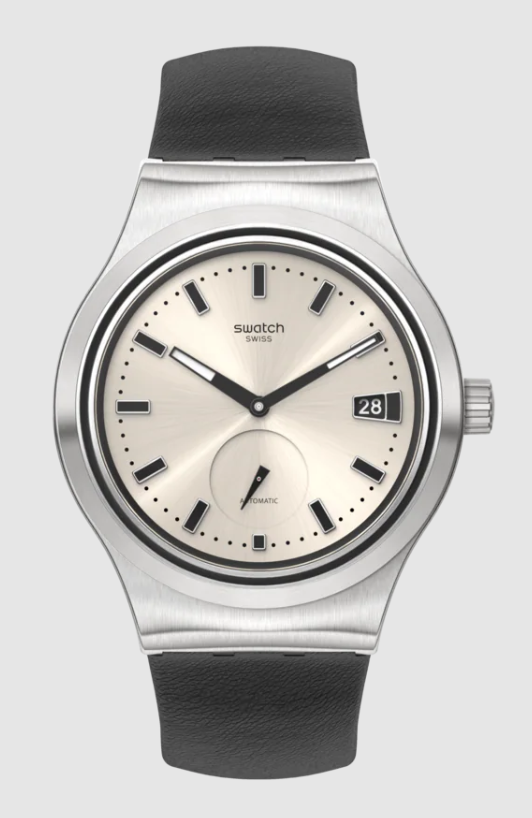 Collection Sistem SY23S408 year 2022
Family Sistem51 UNAVOIDABLE
Weight 36 grams
Price 2450 NOK from https://www.swatch.com/no-no/
In 2013, SISTEM51 transformed the world of automatic watches – the front tells the time, the back tells the story. Automatic and amagnetic movement, powered by your movement, with only 51 pieces and 1 central screw, and a 90-hour power reserve. The year 1983 marked the very first Swatch revolution. In honor of our 30th anniversary in 2013, we opened a new chapter and sparked a new revolution to celebrate it: SISTEM51. This groundbreaking automatic (self-winding, i.e. battery-free) mechanical movement made from 51 components (like the original Swatch) was made possible thanks to a simplified and more efficient design. Most mechanical movements have at least twice as many parts, and some have more than 600!
90 hours of power reserve for long running time
16 registered patents
51 mechanical movement components only
1 central screw uniting the mechanics
SISTEM51 houses an automatic mechanical watch movement, meaning it is powered by the energy of your wrist's motion, and not by a battery as with quartz watches. Most mechanical movements are made of 100 different components, but our engineers rethought its design from A to Z: SISTEM51's 51 components are welded together to form a single assembly centered on a single screw. The high-tech escapement has no regulator, and the rate is set at the factory with a laser, making the manual rate adjustments normally required by a mechanical watch unnecessary. The movement also features a 90-hour power reserve.
No fewer than 16 patents were filed by our development team, which were then granted by the WIPO to protect and preserve this engineering marvel.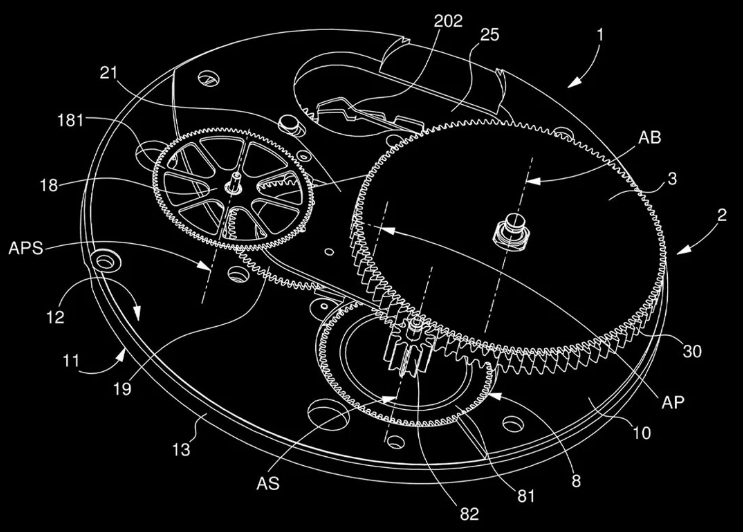 Assembling this watch also requires advanced technology: SISTEM51 is the only mechanical watch ever manufactured on a 100% automated production line. An entire production facility was built in the Swiss Jura Mountains to meet the high standards required for optimally carrying out every step of the manufacturing process.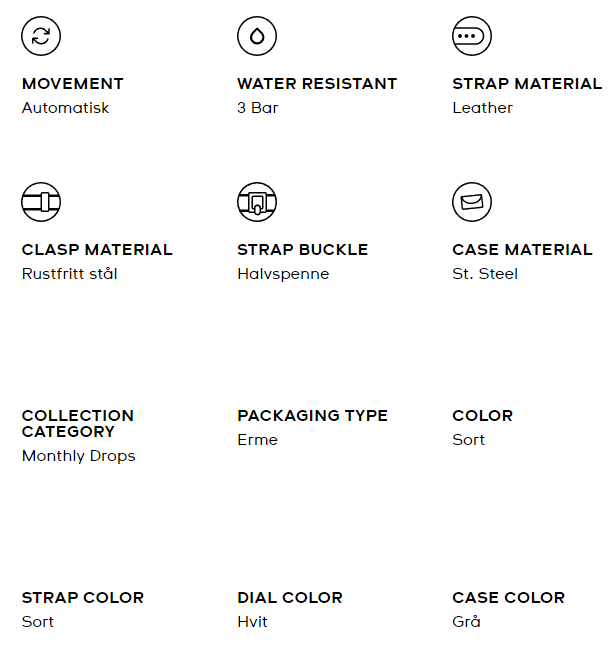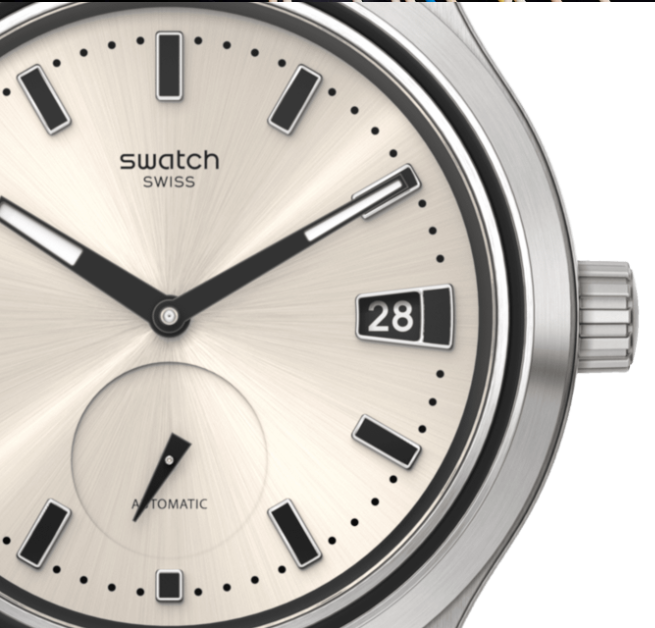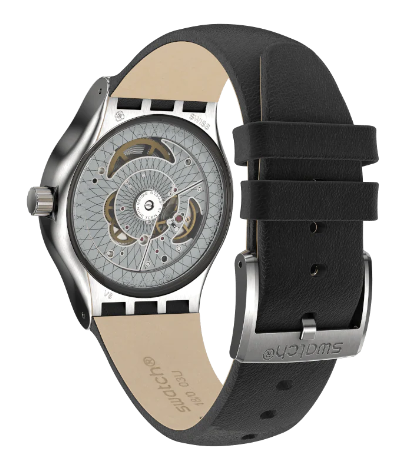 Find Your Swatch Strap